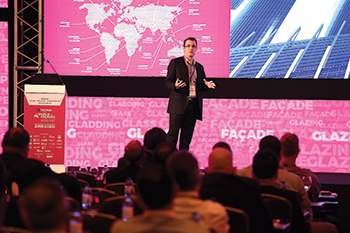 Summit considers new trends to avert fires
May 2018
The latest emerging materials in facades were discussed at an international conference series on facade design and engineering, where developers and authorities were urged to take stringent measures to save energy and avert fatal fires.
The ZAK World of Facades one-day conference at Conrad Hotel, Dubai,UAE, on March 22, was attended by more than 400 participants. French aluminium systems provider Technal was the sponsor.
There have been many instances of fire in the GCC and especially the UAE, which have prompted the country to issue the new UAE Fire and Safety Code that outlines stringent measures and regulations that building contractors must follow to protect facades; and one such requirement is compliance with the EN-1364-4 fire resistance test for curtain-wall assembly.
In this regard, Werner Jaeger, director technology and marketing, Hydro Building Systems, highlighted Technal's new non-fire-rated curtain-wall assembly with Siderise perimeter fire protection that has successfully undergone the EN-1364-4 fire resistance test required in the UAE.
The conference focused on the new and emerging facade materials such as liquid glass and carbon fibre.
"Carbon fibre is a type of facade, which is much stronger than steel but much lighter. Hence, it is now being increasingly used in architectural projects," said Mathieu Meur, director at DP architect during his presentation.
He also spoke on the latest emerging materials in facades such as liquid glass, a type of glass that reflects the heat back to its source depending on the amount of light coming in.
Meanwhile, Jason Pardesi, general manager of Wintech Middle East, pointed out that 80 per cent of all the energy produced in the UAE is consumed by buildings.
"In Dubai, the current building stock is inefficient with some buildings being thought to consume 220-360 kWh/sq m/year. Best practice in the UAE shows its most energy-efficient buildings consuming 110-160 kWh/sq m/year. The aim is to reduce this to 40-60 kWh/sq m/year."
Pardesi highlighted the importance of thermal engineering in the UAE due to risk of fire during summer. He pointed out that companies in Dubai are often not achieving the actual facade performance they aimed for. "Reducing or accounting for linear and point thermal bridging is an important part of the design process. Balcony linear thermal bridges can reduce heat by affecting the U-values by 9-18 per cent which proves that thermal engineering and thermal bridging carries a great value in construction."
He stressed on the importance of air-tightness in achieving the desired envelope performance and the discomfort it can cause to tenants if not monitored properly during construction.
Pardesi pointed out that if construction process is monitored effectively and air-tightness is controlled, the cooling loads can be reduced by up to eight per cent.
The event also had two panel discussions: One on the digital impact on modern facade design and construction; and another on façade engineering matrix for desired project delivery targets.
The next conference in the Gulf will be held in Kuwait City on October 30, followed by Jeddah on December 12.
More Stories