Geomembranes & Geotextiles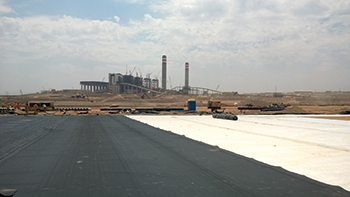 Leister welders rise to the occasion
May 2018
The entire range of geo welding equipment manufactured by Leister Technologies is being used by WBHO Construction, a reputed contractor in South Africa, in the construction of the Kusile power station in South Africa.
The Swiss manufacturer's Astro and Geostar welding machines are being used to weld two layers of geomembranes and five composite liners for an area measuring approximately 1 million sq m to store coal and coal ash.
The coal storage area is covered with two layers of 11.5-mm-thick high-density polyethylene (HDPE), while in the coal ash area two layers of 2-mm-thick HDPE membrane has been installed. The installation of the geomembranes, including the most sensitive part which was the welding of the overlapping geomembranes, was carried out using Leister's welding machines.
The Astro, which has a welding speed of 2 to 2.2 m per minute, was initially used on the project in 2013, while the new Geostar wedge welder was later adopted by the contractor.
"Since using the new welders, productivity at the site has nearly doubled – with welding speeds reaching 3.5 m per minute – on textured geomembrane," says a spokesman for Leister. "Long welds, measuring 120 to 230 m are mastered in a single pass thanks to the Geostar and its new features that enable the permanent monitoring of weld pressure, speed, temperature and voltage as well. The reduced weight of this new machine, compared to its predecessors, and its height-adjustable chassis, enable even easier handling in any given terrain."
The Kusile station, with a total capacity of 4,800 MW, will be the fourth largest coal-fired power plant in the world when completed.
More Stories