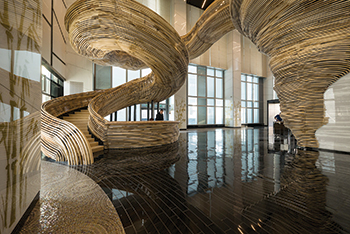 US hardwood exports rise
A buoyant construction sector in the UAE ahead of Dubai's World Expo 2020 is expected to keep demand for American hardwoods at a high level through this year and beyond, says AHEC.
May 2018
The total value of US hardwood lumber and veneer exports to the Middle East and North Africa (Mena) region including Pakistan reached $96.74 million during 2017, according to the American Hardwood Export Council (AHEC), the leading international trade association for the American hardwood industry.
The statistics, which have been compiled from the latest data released from the United States Department of Agriculture (USDA), reveal a seven per cent overall increase over 2016 figures.
According to the data released, exports of American hardwood lumber reached a value of $75.46 million and a volume of 92,273 cu m, marking an increase of 20 per cent and 17 per cent respectively over 2016.
A closer look at the numbers also revealed that direct shipments of US hardwood veneers to the Mena region during 2017 reached a total value of $21.13 million, falling by 23 per cent over the previous year.
However, American hardwood veneers are also shipped to the region from European countries and China, while veneers are also produced in the region – notably in Turkey – from imported American hardwood logs.
The UAE was the region's strongest performer last year, with exports of US hardwood lumber to the market rising by 86 per cent in both volume and value to 24,597 cu m and $21.05 million, as compared to the previous year.
This means that over a quarter of all US hardwood lumber shipped to the Mena region was destined for the UAE last year. However, a large percentage of what goes to the UAE is for re-export to neighbouring Gulf markets, as well as to markets further afield.
Nonetheless, a very buoyant construction sector in the UAE ahead of Dubai's World Expo 2020, is expected to keep demand for American hardwoods at a high level through this year and beyond.
Among the other major destinations for American hardwoods in the Mena region, increases were also seen in exports to Saudi Arabia (up by 10 per cent in volume to 6,539 cu m), and Jordan (up by 12 per cent in volume to 4,395 cu m).
One Mena market that showed remarkable growth in demand for US hardwood lumber last year was Lebanon, to which exports grew by 70 per cent in volume and 61 per cent in value as compared to 2016.
In addition, American hardwood veneer exports to Lebanon also increased by 27 per cent to reach a value of $3.317 million in 2017.
At the same time, exports of US hardwood lumber to the region's two other major markets – Pakistan and Turkey – remained almost unchanged from the previous year.
Roderick Wiles, AHEC regional director, says: "Tactile, warm, unique, natural and sustainable are just some of the adjectives ascribed to American hardwoods by architects and designers in the Middle East.
"Whether it is for a one-off furniture piece or a large-scale interior fit out, hardwoods from the United States are increasingly being specified, as they become better known and more widely appreciated."
"As a result, the US is the number one supplier of temperate hardwoods to the Middle East. Timber is certainly experiencing a global renaissance as a preferred material and as architects and designers seek out natural material alternatives across a variety of applications, we expect to see American hardwoods becoming increasingly widely-specified in the region," he adds.
Anticipating increased growth across the region, AHEC participated at the recent annual 'Dubai WoodShow' where it hosted a pavilion with individual booths occupied by 14 US hardwood exporting companies along with the Hardwood States Export Group (HSEG) – a coalition of major eastern US hardwood exporting states.
Exhibitors included MacDonald & Owen Lumber Company; Hartzell Hardwoods; Atlantic Veneer Corporation; Baillie Lumber; Midwest Hardwood Corporation; Hermitage Hardwood Lumber Sales; Oaks Unlimited; American Lumber; Nina Company; Wood'n Slabs; Northland Corporation; Missouri Walnut; Thompson Hardwoods; and Wheeland Lumber Company.
More Stories