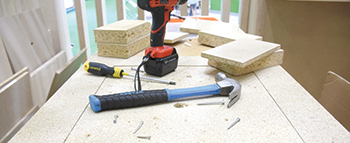 New Steel Wood board a game changer
May 2018
Steel Wood Industries, a Dubai-based manufacturer of environment-friendly and sustainable wood products, unveiled innovative solutions during the Future Cities Show last month (April) and the Dubai WoodShow in March for the construction and furniture manufacturing industries.
In the spotlight were its Steel Wood Density Board (SDB) and Gusolid-PCS (precast-steel wood), both of which are claimed to be game-changing products.
The revolutionary SDB is set to change the wooden furniture and associated industries in the region, the company says.
SDB is a 100 per cent recycled wooden board with premium quality features attained by a constant density gradient, revolutionary internal bonds, modulus of elasticity and modulus of rapture and a compressed core creation process resulting in a flawless uniformity. These features create a balanced panel with a premium face, an edge screw holding capacity and very low emissions due to low volatile organic compounds (VOC) content.
According to Ghassan Farouk Afiouni, managing partner and innovative director of Steel Wood Industries, the smooth surface of SDB makes its suitable for different coatings – veneering, laminating, painting, bevelling and varnishing. SDB is available in a variety of thicknesses, a sanded and un-sanded surface to one or both sides.
Gusolid-PCS, meanwhile, is 100 per cent recycled/sustainable wood that replaces concrete as the core building material and can be used to construct building structures, the company says.
"Until now, the concept of creating 100 per cent green and sustainable structures was not considered possible," says a spokesman for the company. "However, once Gusolid-PCS becomes widely used on a global scale, it can help in cutting down carbon dioxide emissions and reduce global warming."
Weighing exactly one-third compared to ordinary concrete and scaling by far higher in strength, Gusolid-PCS is the ideal choice for future green building materials even for record-breaking high towers, he says.
In addition, Gusolid-PCS has elastic characteristics acting as a natural shock absorber during earthquakes or heavy wind streams retaining its original form once the extra pressure is negated, the spokesman points out.
Being a precast material, Gusolid-PCS allows architects to cut down the construction time to a minimum. Besides being a precast wooden material, Gusolid-PCS opens the door to more creative designs.
To showcase its effectiveness, Steel Wood Industries built a prototype of a caravan made of Gusolid-PCS and displayed it at its stand at the Future Build show. The vehicle is branded as NousaVan-X (NV-X) inspired by the Finnish word "Nousevan" which means "The Emerging" and X as the Roman numeral for 10 sq m area.
"NV-X is a mobile home of the future, constructed from 100 per cent recycled and sustainable wood – which is ironically produced in a desert country; solar-powered with an electrical-charging socket in the absence of sunlight, air-conditioned, with internet wi-fi connection, a shower with access to hot water, a microwave, an 18-below zero cooling fridge, a 43-inch LED TV and many more. This is the most environmental-friendly smart-home ever built till date all controlled from a mobile app all developed in-house and fabricated in a record-breaking time of three weeks," he says.
Established in the UAE in 2012, Steel Wood Industries claims to be the only wood board production facility in the GCC and the first in the Middle East with a sophisticated environment-friendly production facility that sources all its feedstock from recycled wooden products in the UAE, without cutting a single tree. With 60 employees, it produces 40,000 cu m of SDB per annum or 30,000 tonnes of wood per year, and helps reduce the UAE's carbon footprint by 65,000 tonnes per annum.
Afiouni says Steel Wood Industries hopes to position the UAE as a major key player in the composite-panel industry covering demand and international market.
He adds: "Steel Wood Industries continues to receive proposals for franchising or partnership for expanding the factory in different countries, including China, Brazil, Kuwait, and Romania."
More Stories