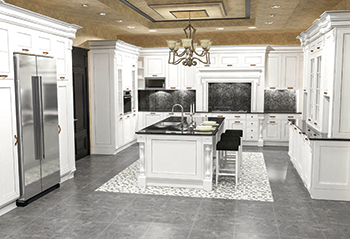 Alabbas offers latest in Italian kitchen tops
Top quality worktops crafted in stone and fashioned with Italian expertise are now available in Bahrain.
May 2018
kitchen worktops fashioned with Italian know-how and expertise are now available right here in Bahrain through Alabbas Stone Gallery.
Although 35 years old, the company went through a complete overhaul last year when a new Italian management took over. It is now offering customers products locally that are as close as it comes to genuine "Made in Italy" ones – given that they are manufactured using Italian techniques, machinery and designs.
"We did total restyling, got in new materials, introduced new techniques and brought in new machinery," Manuel Tersigni, the company's general manager and a 31-year-old Italian expert in marble and marble technology, tells Abdulaziz Khattak of Gulf Construction.
Alabbas offers a wide range of materials, selected by experts from the best quarries worldwide. The selection includes granite, quartzite, limestone, marble, onyx, sandstone, travertine, slate, porfids and semi-precious stones. New state-of-the-art finishing technologies are then used in crafting the products.
The factory, Tersigni says, is one of the biggest in Bahrain and is located in the Sitra Industrial area. It is built over a 4,115-sq-m area, which includes office space, store and accommodation.
"The factory is designed and organised in accordance with Italian working standards and has a monthly output of up to 2,000 sq m, in addition to the ceramic and mosaic fabrication."
Tersigni, an architect and engineer by qualification, says the world of stones is diverse and complex, given the huge varieties of stone available and their chemical composition and hardness. So he believes it is important to explain to customers the various types of stones available so that they can make an informed decision on what suits their requirements.
"We need to select the right material for use in kitchens worktops," Tersigni says. "People might prefer marble but it is softer than other stone and it has a high absorption property."
He continues: "You can scratch marble with granite but not vice versa, because the latter is harder. Plus, marble can easily be stained because of its absorption capacity. So if you leave a cup of coffee on a marble top, you will see the spot after you remove it."
And although chemical protection can be applied to marble tops, that would be required every six months.
"So when you plan to make a kitchen worktop, you must choose granite, especially dark coloured ones that don't absorb liquid. Additionally, granite is much cheaper than marble," says Tersigni.
An alternative to granite, he says, is quartzite – which combines the strength of granite with the beauty of marble. Also, it has low absorption properties.
"Quartzite has veins like marble, and can help create an amazing kitchen with a material that will last forever," says Tersigni.
Speaking about the latest design trends in kitchen worktops, he says, people no longer want the conventional styles.
"The worktops are now cube shaped. These are simple designs that come from northern Europe. Alabbas is introducing these style in Bahrain now," he adds.
These kitchen worktops are solid forms that sit in the middle of the kitchen and give it a chic appearance.
Alabbas has undertaken many prestigious projects, including for high-end clientele, says Tersigni, who is also an advisor on stones to the Royal Court in Bahrain.
It recently supplied and fixed the marble for a European-styled modern kitchen for a villa in Amwaj Island.
The company offers clients complete assistance, from selection of materials to advice on designs by its professional in-house Italian designers and following it with installation and polishing for the best results possible.
Alabbas Stone Gallery will open a new showroom very soon, its fourth in Bahrain and the biggest for marble and stonework in the country. The 250-sq-m showroom is located in Sitra next to the factory.
More Stories