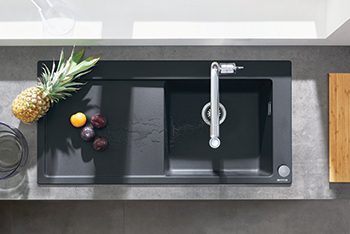 Red Dot awards for Hansgrohe
May 2018
The hansgrohe C51 kitchen sink combination unit is among the four products that earned the German Hansgrohe Group the coveted Red Dot Awards this year.
The product, which won accolades in the "Kitchen Mixers and Sinks" category for its outstanding design, introduces granite to hansgrohe's kitchen sinks, giving them a warm and pleasing look, a stylish colouring, and an exceptionally robust suitability for everyday use.
The other three products include the hansgrohe Novus range of bathroom fittings, the Raindance E ShowerPipe product family and the Axor ShowerPipe 800.
The hansgrohe SilicaTec granite C51 kitchen sink combination units, with their elegant graphite black colour, bring sophisticated design and a warm and welcoming look to the kitchen, says a spokesman for the German sanitary fittings manufacturer. "The high quality SilicaTec material is hygienic and highly durable. These models are available as convenient sink combination units, comprising a premium quality tap, easy-to-use controls, a smart hose box for the pull-out spray tap and all the necessary installation material," he says.
In addition, customers can choose between two different types of controls. The central control unit on the first model is a lever handle positioned on the front right-hand side of the sink. It can be tilted and turned to select precise water temperature and volume. Once selected, water flowing from the tap can be turned on and off by pressing the 'Select' button on the high spout. On the second model, the 'Select' button – which turns water from the multi-spray kitchen tap on and off – is located on the right-hand side of the sink rim.
"Turning the button opens and closes the drain. Both models allow you to control the flow of water using the back of your hand or elbow; for instance, when your hands are dirty," he adds.
"We are very pleased that our products have been distinguished with the Red Dot Award, once again validating our design philosophy," says Jan Heisterhagen, vice president of product management at Hansgrohe.
More Stories