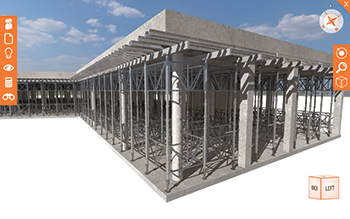 LocusEye renders highly realistic 3D models
May 2018
With the requirements of building information modelling (BIM) and the growing adoption of digital processes in the construction industry, clients and contractors are demanding more visibility and data from construction sites. Hence the role of a temporary works business involves far more than simply providing the formwork and shoring, says RMD Kwikform.
Anticipating these demands, the UK-based formwork, falsework, and shoring solutions specialist has proactively developed a new visualisation tool, LocusEye, which allows clients to automate highly realistic rendered 3D models.
Paul Williams, RMD Kwikform divisional operations director, Middle East, elaborates: "We recognised some years back that the industry would move away from 2D drawings. It has been a slow trend; but as we work closer with customers, particularly on larger infrastructure projects, it's clear that 3D drawings should now be standard practice. We quickly learned that in order to service our customers, and by extension their clients better, we must evolve and work smarter alongside them."
RMD Kwikform has since evolved its 3D capabilities and designed solutions to automate highly realistic rendered 3D models, using LocusEye, an in-house developed visualisation tool. These models can be viewed on a PC, iPad or mobile phone, providing customers with a realistic model of how any solution looks on site. Flexible in functionality, LocusEye allows for changes to be made instantly and for solutions to be re-examined, according to Williams.
Williams says the industry needs smart solutions, and with the growing adoption of BIM and the mandatory aspect of it in major projects, customers are now demanding IFC (Industry Foundation Classes) BIM-compliant models of its temporary works solutions.
"In response to our customer's needs, we're now building, automating and converting 3D AutoCAD models into IFC BIM-compliant models. Through this system, on-site clashes can be detected plus data can be captured to better manage equipment and plan construction phasing," he continues.
LocusEye has already been successfully used across a number of international projects; including a range of access towers in Saudi Arabia, a ventilation facility in Australia and the Mersey Gateway Crossing in the UK.
"Some of the feedback we've already had is around the responsiveness of the models and how easy they are to interrogate. However, more importantly we've seen how much of a positive impact this has had in allowing main contractors to visualise the overall management, build ability, and future planning of the site," says Williams.
He adds: "Any construction site needs to be flexible; it's just the nature of the job, the site demands change. With BIM-compliant models, and through LocusEye, our customers are able to see what impact the said change will have on a site; how this changes affects planned phasing and impacts delivery of equipment.
"As the models are already embedded into the BIM model, our customers are able to manipulate processes, change phasing, and target specific elements of any model. This puts the control back in the contractor's hands and grants complete visibility."
William says with BIM-compliant packages, and the added advantage of LocusEye, customers can use their own tacit knowledge to look at practicalities for delivery, erection and dismantling of kit; where access and egress can be placed, and how the temporary works solution accommodates for other works on site.
"It's all about the better management of the site in order to ensure even safer working practices, and ultimately reduce time and costs," he concludes.
More Stories