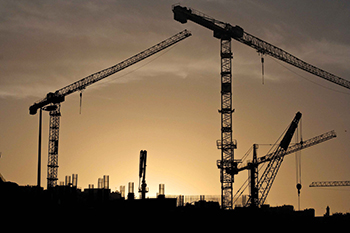 Transformative era
The kingdom has embarked on a major transformation as it pursues its Vision 2030, ushering in an era that will see a diversification of its economy that is still heavily oil reliant.
May 2018
The signs are all there: Saudi Arabia is on the threshold of a transformative era that will see a cultural renaissance in the country and its doors open to international investment and tourism. In line with its ambitions, the kingdom is trying to create a new image that has certainly piqued the interest of a global audience.
For instance, over the past month a number of cinema operators including the US-based AMC Entertainment and Dubai-based VOX Cinemas have begun entrenching themselves in the kingdom following the lifting of the cinema ban. Also, in recent months, there have been announcements of international firms setting up base or expanding operations in Saudi Arabia; among them are Citigroup, which is returning after an absence of 14 years, real estate services firm CBRE and project management firms such as Turner & Townsend, indicating there is renewed interest in the kingdom.
"Now is the right time to go into the country," says Nicholas Maclean, managing director for the Middle East at CBRE. He believes that economic and political reforms spearheaded by Saudi Crown Prince Mohammad bin Salman bin Abdulaziz Al Saud are drawing the attention of international and GCC-based corporates and investors.
The potential spend is massive indeed right from free zones, tourist destinations, renewable energy projects, petrochemical ventures, railways, metros, educational complexes, housing, hotels and shopping malls. Among the big-ticket projects are the $500-billion Neom City, the Qiddiya entertainment resort whose infrastructure alone is estimated to cost $8 billion, the Red Sea Project that is expected to add $4 billion to the economy, a $200-billion solar power development, and the newly-announced $9-billion petrochemical complex in Jubail by Saudi Aramco and France's Total.
As part of the ambitious economic and social reforms being spearheaded by Crown Prince Mohammed bin Salman in line with the objectives of the Saudi Vision 2030, major developments are set to unfold in the kingdom. This year will be a milestone one in Saudi Arabia's history with the country having recently staged its first-ever jazz festival and opened its first cinema in more than 35 years last month at the King Abdullah Financial District in the capital Riyadh. The US's AMC Entertainment Holdings, which holds credit for launching this first cinema, intends to open up to 40 theatres over the next five years.
Plans for Saudi Arabia's growth and diversification of its oil-reliant economy are impressive indeed. However, it will be sometime before the construction sector gets back in shape and starts racing. The past couple of years have taken a toll on the sector, which has been licking the wounds inflicted by non-payment of contractors' dues, the lack of projects due to the drastic drop in oil prices, and shortage of labour due to the Saudiisation measures.
According to BMI Research, the Saudi construction sector will continue to endure a slow and painful growth in 2018, as the industry begins a recovery from the contraction in 2016. The research organisation forecasts an overall construction growth of 1.9 per cent year-on-year (y-o-y) for 2018, with the sector returning to a stronger growth trajectory as contract awards gather pace this year.
Late last year, Saudi Arabia announced the largest budget spending in its history – setting expenditure at SR978 billion ($260.8 billion) for 2018, a growth of 5.6 per cent compared to 2017.
The budget envisages a capital expenditure of SR205 billion or 21 per cent of total expenditures, 13.6 per cent higher than 2017. The country has allocated SR54 billion for boosting the infrastructure and transportation sector and housing projects. Some SR21 billion will be spent on developing roads, ports, railways, airports, housing, communications and information technology, postal services, the industrial cities of Jubail and Yanbu, Ras Al Khair, and Jazan City.
Also setting the tone for 2018 and beyond, was a Royal Decree issued in December by King Salman bin Abdulaziz Al Saud approving the private sector stimulation plan which has been allocated a total of SR72 billion. The private sector stimulation packages aim to strengthen the competitive capabilities of a number of segments of the national economy, as well as improve the business and investment environment and facilitate growth in the country under the Vision 2030.
Among other developments that will have a significant impact on the sector is a new construction company proposed to be set up by state oil giant Saudi Aramco with local and international partners to build non-oil infrastructure in Saudi Arabia. Aramco is involving itself in sectors far beyond oil in line with the Saudi Vision 2030.
The kingdom's main sovereign wealth fund, the Public Investment Fund (PIF), is expected to be part of the newly created company, while several local and international companies have expressed interest in the new venture. PIF is also spearheading in key developments in Saudi Arabia such as Neom City, the Red Sea Project and the King Abdullah Financial District.
This plan follows Saudi Aramco's move last year to tie-up with the US-based Jacobs Engineering to set up a joint venture professional programme and construction management (PMCM) for strategic construction projects in the kingdom; the PIF is also part of that deal. Earlier last year, Saudi Aramco – which is gearing up for the biggest IPO (initial public offering) in corporate history – appointed US-based Bechtel to set up and run a new National Project Management Organization (Mashroat), tasked with reducing inefficiencies on projects.
AIRPORTS
Saudi Arabia is set to mark the initial soft opening and launch operation of King Abdul Aziz International Airport in Jeddah this month. Work on the project, which was built by Saudi Binladin Group (SBG), has suffered a number of setbacks. The project is one among a series of airport projects being developed by Saudi Arabia's General Authority for Civil Aviation, which is increasingly looking at the private sector to spearhead growth in the aviation sector.
The King Khaled International Airport in Riyadh is in the midst of an expansion while there are plans to expand the King Fahd International Airport in Dammam – Saudi Arabia's third largest airport. Spanish transport engineering specialist Ineco has been awarded the contract to develop the masterplan for the facility.
A new international airport is being built at Taif International Airport by the private sector and is expected to be opened in December 2020.
ROADS & RAILWAYS
Saudi Railway Company (SAR) is expected to float tenders soon for its Riyadh-Dammam and the Land Bridge railway projects.
The Riyadh-Dammam project is expected to comprise a 449-km passenger line connecting these cities as well as a 546-km freight line connecting King Abdulaziz Port in Dammam with Riyadh.
The Land Bridge extends from Jeddah to Riyadh with a total length of 1,000 km of double track.
Last July, the Saudi Public Transport Authority (PTA) invited the private sector to partner in the construction and operation of these projects.
Work on the kingdom's longest passenger train service – the 2,750-km North-South Railway – was completed in December at a cost of $2.6 billion.
The first segment of the Haramain High-Speed Rail – Makkah to Madinah – became operational early this year. The 453-km-long high-speed inter-city rail transport system links the two holy cities via King Abdullah Economic City, and Jeddah international airport.
POWER & WATER
Saudi Arabia is also set for a revolution in its power generation sector with determined moves to meet a larger share of its energy needs from renewables such as solar power and from nuclear plants.
In late March, Saudi Arabia and SoftBank Group Corp signed a memorandum of understanding for a $200-billion solar power development programme. At 200 gigawatts, the project would be about 100 times larger than the next biggest proposed development and more than double what the global photovoltaic industry supplied last year, according to data compiled by Bloomberg New Energy Finance.
Another landmark move made early this year was the award of a contract to Acwa Power to develop the first utility-scale renewable energy plant in the kingdom at an investment of SR993.7 million. The Skaka IPP (independent power project) photovoltaic (PV) solar plant will generate 300 MW power.
The project is expected to be the first in a series of procurement deals within the Saudi national renewables programme aiming to produce 9.5 GW of renewable energy by 2023 in Phase One.
Spearheading the drive into renewables is the Renewable Energy Projects Development Office (Repdo) under the Ministry of Energy, Industry and Mineral Resources. Another source of renewables that is being pursued is wind energy with Repdo having received bids from four prequalified firms for the 400-MW Dumat Al Jandal wind project in the Al Jouf region.
Saudi Arabia is also expected to award contracts for the construction of its first nuclear-power plants by the year-end as part of its plan to build 17.6 GW of nuclear capacity by 2032.
A number of major projects are also being developed with private sector participation. The Water & Electricity Company (WEC) has invited expressions of interest (EOIs) for the development of an independent water and power project (IWPP) at Jubail Industrial City. Jubail Phase Three will be located adjacent to the existing units of the plant's first two phases. The plant will have a capacity of 1.17 million cu m per day of potable water and include 3,000 MW of power generation capacity.
The WEC has also called for requests for proposals (RFP) from private firms to take part in its Rabigh-3 independent water project (IWP) project which aims to boost desalinated water capacity in the Makkah region. On completion, the facility will have a capacity of 600,000 cu m per day of desalinated water expandable to 1.2 million cu m per day.
EDUCATIONAL FACILITIES
The Saudi government will build and operate a total of 1,600 schools across the kingdom under a special project in partnership with private sector enterprises. As part of these plans, tenders have been invited from leading regional and global companies for designing, constructing and maintaining 60 schools in the Jeddah and Makkah regions under a public-private partnership (PPP) basis.
The selection process is being done through Tatweer Buildings Company (TBC), a state-owned corporation that manages the kingdom's educational projects.
MEGA CITIES
• Neom: Last October, Prince Mohammed bin Salman announced plans to develop the $500-billion Neom city, aimed at turning the kingdom into a leading global innovations hub and offering its inhabitants an idyllic lifestyle combined with exceptional economic prospects. The PIF has appointed the UK's Buro Happold as programme manager for the mega project.
The 26,500-sq-km city is expected to be the world's first independent special zone stretching over three countries – extending across the Egyptian and Jordanian borders. The futuristic city will be built to run entirely on alternative energy.
Already, a $10-billion fund has been set up by Saudi Arabia and Egypt to develop the mega-city and a business zone, with the latter committing over 1,000 sq km of land in the south Sinai region. Riyadh's part of the new joint investment fund will be cash to help develop the Egyptian side of the Neom. Work is set to start in 2019 on the project and its first phase is targeted to be completed by late 2022.
• Qiddiya entertainment resort: Late last month Saudi King Salman and Crown Prince Mohammed bin Salman attended the ground-breaking ceremony of a vast entertainment resort at Qiddiya, about an hour's drive from Riyadh (See Saudi Focus).
Being built on a 334-sq-km site, it will include a Six Flags theme park, water parks, motor sports, cultural events, and vacation homes. According to media reports, the cost of the infrastructure alone would reach up to SR30 billion and the project would eventually be worth tens of billions of riyals.
• Red Sea Project: A massive tourist destination covering more than 50 virgin islands in the Red Sea, the Red Sea Project was launched by Prince Mohammed bin Salman who is also the chairman of the PIF.
The PIF will inject the initial investments needed into the project and open partnerships with leading international companies, including renowned names in the tourism and hospitality sectors.
The destination will feature exceptional resorts to be built in co-operation with the world's largest hotel chains, a Saudi Press Agency (SPA) report said.
The foundations for the new project – which will spread over 34,000 sq km – will be laid in the third quarter of 2019 and the first phase will be completed in the last quarter of 2022.
• Kingdom City and Tower: While the progress of work on the kilometre-high Kingdom Tower has been slow, the developer has been exerting efforts to maintain momentum at the development. The tower was originally scheduled for completion this year.
In February, Kingdom Holding Company (KHC) signed a power supply agreement worth SR180 million with Saudi Electric Company (SEC), on behalf of its Jeddah Economic Company (JEC) partners, which is developing the Jeddah Economic City.
CEO of KHC Talal Almaiman said with this move "the main infrastructure services of Jeddah Economic City and Jeddah Tower are considered complete".
The tower is the first phase of the Kingdom City project, while Phase Two will boast several skyscrapers, apartment buildings and other social centres. The overall construction cost of the tower and the surrounding economic city is estimated to be around SR75 billion.
• Al Faisaliah City: Yet another ambitious development unveiled last August is the Al Faisaliah City, which is expected to provide 995,000 homes and accommodate 6.5 million people by 2050. Covering an area of 2,450 sq km from Makkah to the Red Sea, the project is actually a giant extension of the holy city and is expected to ease the pressure on Makkah and Jeddah, according to a SPA report.
The project will consist of a governmental complex; an Islamic centre; convention centres; residential areas, malls and entertainment, educational, health, agricultural and industrial facilities, an airport and sea port. The city will receive 9.5 GW of power from renewable energy sources.
• Energy park: A massive industrial energy city project is being built in the Eastern Province, with Saudi Aramco as the anchor tenant. The King Salman Energy Park (Spark) will spread over an area of 50 sq km with its first phase covering about 12 sq km expected to be completed in 2021.
The management of the Energy City will be carried out jointly by Saudi Aramco and Saudi Industrial Cities and Technology Estates (Modon) (See separate report).
• New Taif: Saudi Arabia has embarked upon a SR11-billion development plan for New Taif, which will feature a new airport, Souk Okaz City, a technology oasis, a 12-million-sq-m residential suburb, an 11-million-sq-m industrial city and a 16.3-million-sq-m university city.
A contract has already been signed for the infrastructure works for the first phase of a three-stage project to build a residential suburb of more than 10,000 homes.
The technology oasis project, which will come up on a 35-million-sq-m area, will boast a solar power plant with the production capacity of one megawatt daily. King Abdulaziz City of Science and Technology (KACST) has already started building 600 bases for the plant.
The new airport will be built at a cost of SR3.1 billion by 2020. Gaca has signed a contract to develop and operate the new airport with a group of companies including Asiad, the Contractors Association Company and Munich Airports Company.
The new Souk Okaz City, in addition to its culture and heritage attractions, will also have 1,250 hotel rooms and 130 new homes.
• King Salman International Complex for Maritime Industries and Services: Work is in progress on the dredging, reclamation and marine structures for King Salman International Complex for Maritime Industries and Services in Ras Al Khair.
It will be the largest in the region in terms of production capacity and scale, enabling Aramco and its partners to meet their manufacturing, maintenance, repair and overhaul requirements for offshore oil and gas rigs, offshore support vessels, and commercial vessels. The facility is expected to reach its full production capacity by 2022.
The initial phase of the contract will be completed by 2020. This will prepare the land for subsequent construction of a dry dock and ship building and maintenance facilities.
Saudi Aramco has joined hands with the UAE-based engineering firm Lamprell, the National Shipping Company of Saudi Arabia (Bahri) and Hyundai Heavy Industries Company to establish, develop and operate a world-class maritime yard, which will be the anchor project within the complex.
TOURISM & LEISURE
With the proposed opening up of the kingdom to tourists and a greater focus on foreign investment, Saudi Arabia is likely to see an upsurge in hospitality properties. Most of the mega developments such as Neom City, Red Sea Project and Qiddiya will see numerous hotel chains entering or expanding in Saudi Arabia.
According to Tophotelprojects, a total of 84 hotels are expected to open in Saudi Arabia this year. The hotels, which represent around 60 per cent of country's current hotel development pipeline, will add 27,281 rooms to the market.
This apart, there has been an upsurge in the development of shopping destinations and with the lifting of the 35-year ban on screening of films early this year, there is rush to obtain operating licences as well as develop cinema halls in the kingdom.
Among the major malls being built in Jeddah are the King Avenue Mall and Al Rawda Complex, while Al Khozama Management Company has launched the redevelopment of Al Faisaliah District in Riyadh.
More Stories