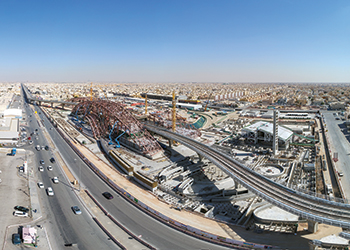 Metro rides ahead
Gearing up for a soft opening next year, the $22.5-billion Riyadh Metro has made remarkable progress over the past year with the first trainset trials having taken place last month, writes MARK LAZELLE.
May 2018
Progress on the $22.5-billion Riyadh Metro, which when completed will be one of the world's largest integrated public transport systems, continues apace. The project, spanning six lines and covering a total of 176 km, is more than two-thirds complete, and last month (April) saw the first trainset trials on two short test sections.
According to HRH Prince Faisal bin Bandar bin Abdulaziz, governor of Riyadh Region and chairman of the Arriyadh Development Authority (ADA) – the Saudi government body developing the Riyadh Metro – the project was, as of February 2018, 68 per cent complete. Speaking in March at a forum in London, the kingdom's Economy Minister Mohammed Al Tuwaijri said that the entire metro – which apart from an extensive system of lines also includes 85 stations (including four 'iconic' stations), six depots and several park and ride facilities – would become 'fully operational' in 2021, with a 'soft' opening taking place next year.
Masterminded by the ADA, the Riyadh Metro is expected to have a transformative impact on the city, establishing new urban economic corridors and growth clusters, stimulating real estate development, enabling greater social mobility among the population of more than seven million, reducing chronic traffic congestion and slashing pollution levels in the rapidly-expanding metropolis.
Construction of the project, arranged into three packages led by design-build (DB) consortia, began in 2014, and consists of the following:
• Line One (38 km long, predominantly underground, being constructed in a north-south orientation through central Riyadh with 22 stations and four transfer stations) and Line Two (25 km running east to west, 15 km of which is at grade (the remainder elevated) with 13 stations and three transfer stations) are designed and built by BACS Consortium, led by Bechtel of the US with Almabani General Contractors of Saudi Arabia, Consolidated Contractors Company (CCC) of Lebanon and Siemens of Germany;
• Line Three, the longest section of the system running east to west for 41.8 km with 22 stations, two maintenance depots and six park and ride schemes, is designed and built by ArRiyadh New Mobility (ANM) Consortium, itself comprising two joint ventures: the Civil Works Group (CWG), led by Salini Impregilo of Italy and including Larsen & Toubro of India and Nesma & Partners of Saudi Arabia; and the Electrical Works Group (EWG), a joint venture between Ansaldo STS of Italy and Bombardier of Canada. IDOM of Spain and WorleyParsons of Australia are also partners in the ANM Consortium.
• Lines Four, Five and Six (combined length 64 km, the scope including two maintenance depots, 24 stations (elevated, at ground level, and underground)), are being designed and built by Fast Consortium, led by FCC of Spain and including Alstom of France, Freyssinet of Saudi Arabia, Samsung C&T of South Korea and Strukton of The Netherlands.
The metro will be integrated with the Saudi Bus Rapid Transit project, with 22 routes running across more than 1,200 km.
In addition to its scale, the metro system is being built to world-class specification, with an emphasis on passenger comfort as well as sustainability and energy efficiency, as demanded by the ADA, says a senior project executive.
"This project is being built with a design life of 100 years," explains John Rinard, the project director for Riyadh Metro Transit Consultants (RMTC), the project management and construction supervision contractor overseeing the work of the design-build contractors delivering Packages One and Two (BACS and ANM consortia).
"We work with the DBs to determine quality in the supply chain, from the billions of dollars' worth of heavy civil infrastructure to the glazing, tiling, wall boarding and other things the public will see and touch."
As well as providing long-term economic and social benefits for the city, the Riyadh Metro has been a major shot-in-the-arm for a Saudi construction industry which has, in recent years, been buffeted by a slowdown in government spending and infrastructure development on the back of falling oil prices. Reinvigorating the national supply chain, the metro has been the catalyst for retooling, upsizing and capacity building programmes for companies across the kingdom supplying tens of thousands of line items required for each of the three metro construction packages.
"Roughly 30 per cent of all procurement, excluding trainsets, is in-kingdom," Rinard notes. "That is a big multiplier into the economy. RMTC's contract stipulates that we must promote Saudi businesses, and we are living up to that.
"We demanded, for example, that local suppliers set their QC (quality control) programmes at a much higher bar to satisfy the needs of a 100-year life system," he says. "And we have taught the local supply chain to plan. For example, on an alignment with limited laydown space, 'just-in-time' deliveries are necessary. Few of the Saudi suppliers had dealt with this level of requirement before."
CHALLENGES
The sheer scale and complexity of the project has, inevitably, presented myriad challenges during construction. Shipping materials to a large city hundreds of kilometres from a seaport has been a feat of logistics. On site, hundreds of thousands of cubic metres of material have been excavated to create underground sections either by 'cut and cover' method or by using huge tunnel boring machines (TBMs) which have been burrowing decisively, and safely, beneath Riyadh's streets.
The early stages of the design and construction work were dominated by utility diversions. In downtown areas, in particular, contractors have had to contend with limited manoeuvring space for heavy equipment such as the high-capacity cranes supporting work on the elevated sections. Here, construction methods have included precast beams, precast segmented method, cast-in place and balanced cantilever method – the latter chosen for its versatility which allows for longer spans and alignments with smaller curvature radii.
With civil works well progressed and the peak construction workforce having passed on many areas of the system, attention will slowly turn to the operations and maintenance phase of the project.
In this regard, last month (April), two notable operational milestones were reached when French train manufacturer Alstom, which as part of Fast Consortium is supplying 69 sets for Lines Four, Five and Six, conducted the first test of its Metropolis units on a stretch of test track close to Line Four/Six depot. Canadian train manufacturer Bombardier, whose 47 trains will serve Line Three – the longest on the network – followed suit in mid-April. Siemens will, meanwhile, supply 67 vehicles to serve Lines One and Two.
Once operational, the Alstom, Bombardier and Siemens trains will serve a total of 85 stations on the metro network. These will include the following classifications:
• Iconic stations: Top international architects were engaged to design the four 'iconic' stations. These include Omrania of Saudi Arabia for the Western Station, Zaha Hadid (UK) for the King Abdullah Financial District (KAFD) station, Snohetta (Norway) for the Qasr Al Hokm (Downtown) station, and Gerber Architekten (Germany) for the Olaya Station.
• Elevated stations.
• Deep underground stations.
• Shallow underground stations.
Once complete, the Riyadh Metro will be the world's largest public transport network, and is part of a wider plan by Saudi Arabia to further diversify its oil-dependent economy as part of the national Vision 2030. The Riyadh Metro is expected to have the potential to create thousands of jobs for Saudi nationals, and act as the stimulus for the development of a national public transport industry in the kingdom connecting cities, businesses and people. With metro systems planned in other cities in Saudi Arabia, the Riyadh experience will undoubtedly create new opportunities for Saudi contractors newly geared up for the future.
More Stories