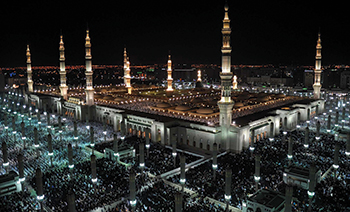 PIF on a roll with mega projects
May 2018
The Public Investment Fund (PIF) is spearheading the development of multi-billion projects across the kingdom including the recently-announced $500-billion Neom city, following the announcement last year of the Red Sea project.
Saudi Arabia's most active project owner is currently developing a royal housing complex, work on which started in the first quarter of this year, and a key development to house pilgrims in Madinah.
The complex of royal residential buildings called Sharma Complex, which is estimated to cost $4.9 billion, is located in the northwestern part of the country, 130 km from Tabuk Province. The scope of works includes five royal residential buildings, a function hall, golf course, landscaping works and infrastructure and utilities – all to be undertaken in several phases.
Work on the project is expected to finish in Q4 2022.
According to Gulf Projects, a leading projects database in the region and a unit of Al Hilal Group, the project is divided into four packages. Package One consists of four royal residential buildings, courtyards, car-parking spaces, and landscaping works; Package Two includes one royal residential building, courtyards, car-parking slots, and landscaping works; Package Three consists of a function hall, golf course, landscaping works, and car-parking facilities; and Package Four consists of infrastructure and landscaping works, sewer networks, streetlighting, road works, and associated facilities.
Last month, Saudi Diyar Consultants was appointed as the design and supervision consultant on the project.
Early this year, PIF awarded construction contracts for all the packages: Package One to El Seif Engineering Contracting Company; Package Two to Modern Architecture Contracting Company; Package Three to Al Bawani Company; and Package Four to Nesma and Partners Contracting Company.
Meanwhile, the PIF has set up a development company called Rou'a Al Madinah to deliver projects aimed at increasing facilities for pilgrims and visitors to the Prophet's Mosque, while also enriching spiritual and cultural experiences across the holy city of Madinah.
The project worth $10 billion aims to develop a 1.3-million-sq-m site, 1 km from the east wing of the Prophet's Mosque.
It will consist of 500 new housing units and 80,000 hotel rooms. The project will also boost the prayer areas to accommodate approximately 200,000 worshippers daily.
The scope of work will also entails the development of commercial and residential projects, as well as cultural centres and museums to enrich Madinah's religious, cultural and historical offerings. A pedestrian corridor will be built around the development, and public transport stations around existing corridors will also be updated.
Local firm Amsad Architectural Associates has been appointed as the design consultant. Initial preparation works for the project are under way, and construction is expected to start this year. The entire project is expected to be complete by Q1 2028.
More Stories