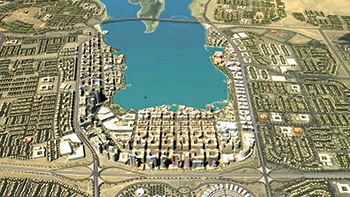 Behemoth Jubail Two takes shape
May 2018
Work on Jubail Two Industrial City, termed as one of the largest civil engineering projects in the world, is in full swing and will considerably expand the size of the industrial city once it is completed in 2023.
Work on the project has been divided into four stages. The Royal Commission of Yanbu and Jubail has chosen Bechtel as the consultant after the firm successfully handled the Jubail One project, according to Zohair Al Ghamdi of leading online projects portal saudiprojects.net.
Work on the project valued at SR14 billion ($3.73 billion) started 2004 and infrastructure work is currently under way. The city is located northwest of Jubail One.
Al Ghamdi says the scope of works include the construction of a railway line to transport gas; and pipelines to transport chemical products from Jubail Two Industrial City to King Fahad seaport. The seaport too will be expanded to provide more space for stock and equipment.
The industrial city will have seven residential districts, namely: Al Surouge, Al Mardumah, Al Fasil, Al Mutrafiah, Al Deffl, Al Reggah and Al Jalmudah. This will add another 120,000 people to the city's existing population.
A road network with a total length of 860 km will be constructed as will be 63 bridges. Also being expanded is the city's central air-conditioning capacity.
Bechtel's scope of works also includes providing education facilities – including an 18,000-student 'greenfield' university – medical centres, and power, water and waste facilities.
About 25 per cent of Jubail Two will be reserved for industries. The city is categorised into three zones. The primary industries' zone will have plants that produce primary chemical products, such as acetic acid, styrene, methanol, aromatics, ethylene oxide, cunene, VCM, VAM, ethanol, ammonia, EDC, LAO, olefins, etc.
The zone for secondary industries will house plants that produce final chemical products such as polyether, melamine, isopropanol, epoxy resins, polyol, etc, while the third zone for support and light industries zone will contain medium and small factories that manufacture packaging/wrapping materials and containers.
Al Ghamdi says the project will bring huge benefits to the Saudi economy. "Every riyal spent on infrastructure will generate 15 riyals returns on investment," he says.
With a population of more than 100,000, Jubail accounts for more than seven per cent of Saudi Arabia's gross domestic product.
More Stories