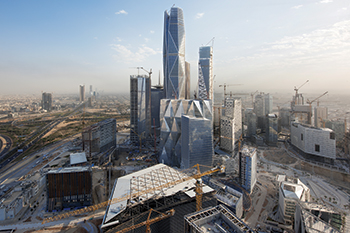 Work resumes at kafd
May 2018
Work at King Abdullah Financial District (KAFD) in Riyadh has resumed after parcel A.01 was officially launched last month, according to leading online projects portal saudiprojects.net, citing a source at the Public Investment Fund (PIF). Also, bids have been invited to complete the remaining work.
Parcel A.01 consists of the completed conference centre, whose halls have been converted into cinema theatres, Zohair Al Ghamdi of saudiprojects.net, tells Abdulaziz Khattak of Gulf Construction.
Being developed by Raydah Investment Company and owned by the Public Investment Fund (PIF), KAFD will be home to the headquarters of the Saudi Capital Market Authority which will occupy the state-of-the-art iconic CMA tower located in the heart of the district. The 385-m-high tower is currently receiving its finishing touches.
"KAFD will also house the headquarters of the Saudi Stock Exchange (Tadawul), in addition to a financial academy, and offices of numerous banks, companies and other financial institutions," says Al Ghamdi.
In addition, the district will include a number of towers designated for state-of-the-art administrative offices and residential buildings that constitute about 21 per cent of the project's structures. There will also be a number of five-star hotels managed by international hotel operators.
The entire KAFD covers a total of 1.6 million sq m of land and is expected to be home to 12,000 residents.
The district will be connected to the airport via a metro.
Work at KAFD is divided into seven zones, attractions and services. Zones One to Six are currently under construction and work on Zone Seven is yet to start. The attractions are being developed in 13 parcels with only a few completed or under construction. The services are partially complete, including the data centre and central air-conditioning.
Consultants on the project include Dar Al Riyadh, Dar Al Handasah, Tecsult/Aecom for earthworks, Omrania for mechanical, electrical and plumbing (MEP) and Buro Happold for structural engineering. Henning Larsen is the lead architect.
The contractors include El Seif, Saudi Binladin Group, Al Bawani, Saudi Oger, Specialised Contracting Company, Al Latifia, and SBM.
More Stories