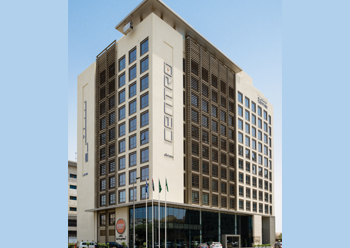 Reynaers rides high on Vision 2030 wave
May 2018
Saudi Arabia is not only a key market for Reynaers in terms of large-scale projects, but also serves as an important launchpad for new products to meet an ever-growing demand for advanced aluminium systems in the kingdom.
The kingdom is taking progressive steps toward realising its ambitious Vision 2030 plan, according to Ali Khalaf, managing director of Reynaers Middle East, the Bahrain-based regional subsidiary for the leading European aluminium systems provider.
The business environment is evolving and although this is creating new challenges for the aluminium systems market, the prospects are very positive, Khalaf remarks.
"Every transition and change involves some disruption of the workflow and that is where some investors or developers may think twice about proceeding with their plans. However, we see the current economic atmosphere as a precursor to a more open and welcoming work environment, attracting a much higher level of investment and construction activity within the region," says Khalaf.
He adds: "We are welcoming the new changes within our industry with optimism and although we see some evident challenges coming our way initially in terms of policies and procedures, these will bode well in the long run."
Reynaers Middle East currently caters to three main regions of the country – the Western, Central and Eastern provinces –and has come a long way in gaining customer confidence for an international quality system bought locally.
In the past two years, the company has executed several notable projects in the commercial segment, such as the King AbdulAziz University (KAU) Faculty of Engineering building, Dareen mixed-use development, Al Khair Tower, Ministry of Defence dental clinic, Asala Mall, and Shaza Tower.
Khalaf says, as in the other GCC countries, Saudi Arabia is witnessing a strong shift towards the development of large-scale housing developments like the Dareen mixed-use project and recently the under-construction Jeddah Gate Project.
"Although these are technically large-scale projects, they serve the end user or residential segment," he points out.
Several prominent hotels like the Centro Hotel and Staybridge Suites in the Andalus Square are also among the notable leisure projects completed in Saudi Arabia, informs Khalaf.
Commenting on industry trends, Khalaf says fast-evolving economies in the Middle East like Saudi Arabia are creating a strong demand for products that offer higher performance and specifications, as well as sleek looks.
"In fact, this market has served Reynaers as a launchpad for a mid-range sliding system which, although already marketed in Europe, had not been introduced in the Middle East. This is where Reynaers strives to ensure it has a finger on the market's pulse and addresses issues at the right time."
Reynaers' Concept Patio (CP) 68 sliding system made its regional debut at the Jeddah Gate Project. The highly-insulated sliding system combines elegance with performance and security, and is characterised by its slim profiles allowing the integration of large windows and doors with maximum views.
"An intermediary option between the CP 50 and CP 130 sliding systems, the CP 68 quite adeptly meets both the design and performance matrix requirements," says Khalaf.
Currently, the Saudi commercial sector is served through the Bahrain head office while the residential and villa market is actively served through a fabrication unit and warehouse established in Saudi Arabia.
Khalaf says Reynaers intends to increase its sales force given the geographical span of the country, although these plans are still in the early stages.
Reynaers Aluminium manufactures and markets innovative and sustainable aluminium solutions for windows, doors, curtain-walls, sliding systems, sun-screening and conservatories.
Apart from a wide range of standard solutions, the company also develops tailor-made solutions for all market sectors – from residential to commercial and industrial projects. Reynaers' high-quality systems meet the most stringent demands in terms of comfort, security, architectural design, and energy efficiency. It acts as a valuable partner for architects, fabricators, solar installers, project developers, investors and end-users.
Founded in 1965, Reynaers currently employs over 1,770 workers in 40 countries worldwide and exports to more than 70 countries on five continents.
More Stories