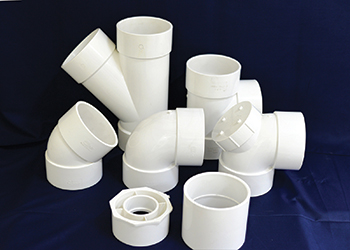 Gulfplas takes steps to fight fake products
May 2018
Gulf Plastic Industries (Gulfplas) has been a victim of its own success, with many low-quality duplicates of its products available on the Saudi market – an issue that it has been addressing over the past year.
The leading Bahrain-based pipes
and fittings manufacturer has had to develop a special strategy that assures buyers that they are buying genuine Gulfplas products.
The company is appointing new approved resellers/dealers and its products will be available only from them, according to Pascal Dufrasne, the company's recently appointed general manager. There will be approximately 10 of resellers/dealers all across the country selling the best quality Gulfplas products for the local market.
Expressing his disappointment at the counterfeits, Dufrasne says: "You can find a huge number of duplicate Gulfplas pipes in the Saudi market. This is a crime and Gulfplas will take legal action to stop these copies. Gulfplas pipes may be copied, but not its quality."
"The Gulfplas name and logo are synonymous with top quality," Dufrasne emphasises. "This is the main reason you will find so many copies in the market. Customers –whether they are contracting companies or plumbers – have always preferred Gulfplas pipes. That accounts for our success but it is also the reason behind our difficulties. We have no control on the quality products supplied locally."
Gulfplas was the first company in the GCC to manufacture PVC pipes, and the regional boom has seen many competitors enter the market to supply that growth. Dufrasne is not against competition as "competition is good as it pushes you to be better, faster, innovating and diversified".
But in a dynamic and fast-growing market, he says, we must be alert, attentive and able to deal with all the changes around us.
Gulf Plastics is set to celebrate its 50 years anniversary (1968-2018) this November.As the new general manager of Gulfplas, Dufrasne says one of his first goals has been to regain its top slot in the market.
With its 14 extrusion lines, Gulfplas can process more than 1,000 tonnes of polymers. This includes PVC (polyvinyl chloride), cPVC (chlorinated polyvinyl chloride), PPR (polypropylene random copolymer), LDPE (low-density polypropylene) and HDPE (high-density polypropylene).
"If we also count the seven injection machines for PVC, cPVC and PPR fittings, we can add another 200 tonnes of compounds or resins," says Dufrasne.
Of its diverse range of products, the most successful ones are cPVC pipes in small sizes. These are used in every construction project to supply water under high pressure, and are also used as a replacement for copper pipes. "cPVC pipes are easy to assemble and fix, while offering a long life, being cheaper than copper pipes, and corrosion resistant," he points out.
A year ago, the company started the manufacture of PVC fittings of different sizes and shapes. "This has been possible after substantial investment in 40 injection moulds. Gulfplas is now starting the fabrication of its own PVC and cPVC compounds to supply internally our injection machines," he says.
In addition, Gulfplas also manufactures and supplies a wide range of fittings including PPR and cPVC with brass inserts
Gulfplas keeps abreast with the requirements of the Saudi construction sector and supplies all the types of pipes required by the market. This includes sewage pipes, pressure pipes and cPVC water supply pipes.
Speaking of expansion, Dufrasne says: "There is no doubt that every business seeks to expand its capacity and diversify. And by 'diversification, I am referring to being able to participate in the entire 'supply chain' of pipes and fittings."
He adds Gulfplas is continuously developing its business and the way it works by installing the latest machinery, equipment and technology systems.
In addition, it has adopted a strategy of ensuring the quality of all of the company's supply chain processes, from selecting raw materials to its end products, with all quality assurance tests.
Gulfplas is now eyeing markets in different countries by providing customers with the best products based on their needs at the best prices, and is focusing on enhancing and building its brand in local and international markets.
He says the construction market is driven by the country's growth and development, and believes the company is well positioned in the market. "Times are hard and only companies that offer quality will remain," Dufrasne adds.
Gulfplas distributes its products via a network of approved dealers. However, as part of its development strategy, it is in discussion with new distributors that directly supply to projects being spearheaded by Saudi Aramco and the Royal Commission for Jubail and Yanbu.
More Stories