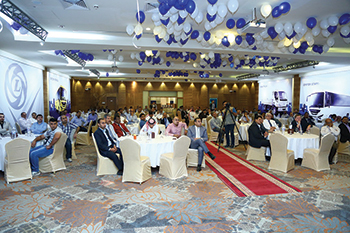 Ashok Leyland rolls out an Oyster
May 2018
Ashok Leyland, a market leader in staff transportation in Saudi Arabia, has launched its Oyster 2018 model in Saudi Arabia while celebrating 10 years of its presence in the kingdom.
The company is the fourth largest bus manufacturer and also the 12th largest manufacturer of trucks globally.
On the occasion, its authorised dealer in the country, Western Auto, announced its new after-sales service campaign, called 'Old Bus, New Life'.
The Oyster 2018 is a mid-sized 32-seater bus, equipped with best-in-class features for maximum safety and comfort.
Commenting on its launch, Karthik Ganesan, regional manager Mena (Middle East and North Africa), says: "Safety, comfort and a low cost of ownership for our customers remain our top priority. And the Oyster underlines all these features and has created a new benchmark."
He says the Oyster will offer best returns on investment at any point of time, adding the company is excited with the growth in volumes in the midi-bus segment which has opened up a new dimension for its portfolio.
"We will continue with our new product offerings and introduce a host of new products across the trucks and bus segments, to suit the customer requirements," Ganesan adds.
Ashok Leyland has enjoyed a considerable market presence in the GCC for over 35 years, and sees a positive outlook in Saudi Arabia inspired by Vision 2030.
"We are excited to be part of Vision 2030, and Ashok Leyland is already gearing up to meet the market demand and at the same time introduce a wide range of products for the customers," says Ravi Panga, vice-president for international operations.
Ashok Leyland has made its mark in the midi-bus segment with sales of units of the Oyster in large numbers throughout the GCC with independent operators, rent-a-car companies and private schools.
Meanwhile, about its new after-sales service campaign, P V Ranganathan, chief operating officer of Western Auto, in Saudi Arabia, says: "We are excited to introduce the after-sales service campaigns. The parts bundle saves time, costs and manages inventory for the customer, while the 'Old Bus, New Life' initiative allows the customer to extend the life of bus."
He says customers will benefit from the company's technical expertise, trained mechanics and genuine parts.
Western Auto has five full-fledged sales and service touch points across the kingdom and is expanding.
"We believe in customer profitability and our well-trained sales force ensures its recommends the right vehicle to the customer that suits his application. Our customers appreciate us for our onsite service, delivered by our service trucks, besides the driver and mechanics training to customers," says Ranganathan.
Western Auto has initiated many training programmes to create a new breed of sales and service leaders in Saudi Arabia for both nationals and expats, alike.
Ashok Leyland is a flagship of the Hinduja Group. It has a footprint that extends across 50 countries. It had a turnover of $3.3 billion in 2017.
More Stories