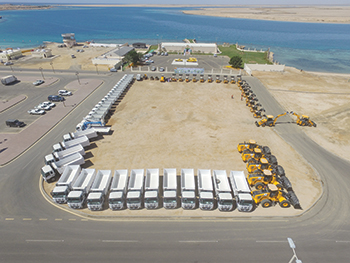 Abunayyan delivers 88 machines for Yanbu
May 2018
Abunayyan Trading Corporation (ATC) has supplied dozens of JCB machines and other machinery for the maintenance of Yanbu city after winning a major government tender.
The order included 29 JCB machines, 23 attachments, and 36 trucks, which were supplied to Yanbu Municipality.
These machines, now handed over, will be used in cleaning the city and its beaches, repairing roads and walkways, and landscaping works, as part of Phase One of the city's transformation in compliance with 2030 Vision, and the first step in becoming cleaner and greener, according to an ATC spokesman.
"The tender was the first major government tender for ATC–JCB since becoming the new JCB distributor in Saudi Arabia in September 2016," he says.
The event was attended by Yanbu governor, head of Yanbu municipality, and high governmental and military officials, ATC-JCB team group president Khalid Abunayyan and managing director Saide Hamoucha.
The spokesman says ATC-JCB is proud to be part of the environmental project and is committed to providing the best support to the municipality and all its customers. The company has more than 29 mobile service workshops, 23 branches, and over 150 employees across the kingdom, and offers a wide range of services including field service, high spare parts availability, short lead time, and 24/7 technical support, to ensure customers do not encounter any disruption or downtime in their projects.
Since its establishment in 1950, Abunayyan Trading has become one of the most trusted names in the power and water business, providing integrated solutions across the water, wastewater, power, heavy machinery and parts, and logistics sectors.
More Stories