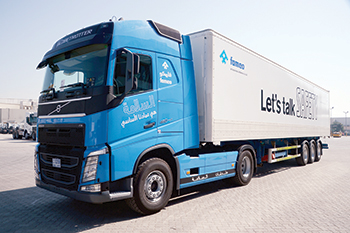 Famco rolls out safe, eco-friendly units
May 2018
Having just launched Volvo Trucks with Advanced Safety Features in line with government objectives to provide a safe work environment and sustainability, the UAE-based distributor Al Futtaim Auto & Machinery Company (Famco) has gone a step further by rolling out Volvo Trucks that meet Euro 5 emission standards.
This comes after the Emirates Authority for Standardisation and Metrology (Esma) mandated that all trucks imported starting this year must meet Euro 4 emission standards.
The new Volvo Trucks are equipped with On-Board Diagnostics (OBD), which helps monitor the level of AdBlue liquid that, together with Selective Catalytic Reduction (SCR) technology, helps lower emission levels. The OBD also easily provides authorities with information regarding the emission levels of the trucks during inspection.
Alongside the Euro 5 models, Famco has also launched the Globetrotter cab for the Volvo FH. The cab is 340-mm taller than the current Volvo FH sleeper cabs and is aerodynamically designed with smooth surfaces and rounded corners at the front which provides better fuel efficiency. The windscreen is bonded to the body, resulting in less noise in the cabin and better crash protection.
Jan-Erik Thoren, managing director of Volvo Trucks Middle East, says: "The Volvo FH with the new Globetrotter cab is the future of trucks and sets new standards in drivability. The trucks make no compromises on power, safety, comfort and versatility and are perfectly suited for construction and long-haul transportation."
Meanwhile, about the Advanced Safety Features, Vladimir Knezevic, managing director of Famco UAE, says: "The Safety Edition Volvo FH truck with safety features was built with one thing in mind: the driver. The truck contains numerous 'world-first' innovations, which will assist in safe driving, fast loading and fatigue reduction, thus increasing productivity."
Some of the advanced safety features include the headway support system, which alerts the driver of the risk of collision with the vehicle ahead using both the radar and a camera to collect information. Also on board is the lane change support, a radar system designed to aid drivers and prevent accidents especially on turns.
More Stories