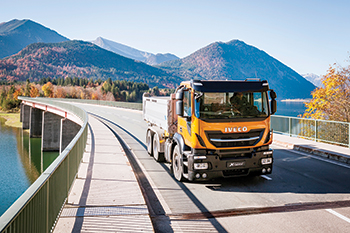 Iveco heeds green call and goes for gas
May 2018
Iveco last month presented the new Stralis X-Way sustainable vehicle range for the construction industry at Intermat 2018, a leading construction equipment exhibition, held in Paris, France.
A highlight of the company's showcase at the event was its natural gas version, in response to French President Macron's call for massive conversion of heavy truck fleets to gas. Also on show were the company's wide offer of vehicles for the road building, urban construction, recycling and quarry sectors.
Pierre Lahutte, Iveco brand president, says: "Iveco's commitment to supporting the energy transition has driven us to pioneer sustainable technologies, resulting in a full offering of alternative traction vehicles. At a time when municipalities are putting in place traffic restrictions and stringent emissions regulations to address the issue of air quality for their citizens, our natural gas-powered vehicles give construction businesses a competitive advantage, especially when bidding for work in city centres."
The Stralis X-Way – a new range developed specifically for construction logistics and urban service missions – provides the perfect crossing for on-road applications requiring off-road mobility, says a spokesman for Iveco. "It combines Iveco's best fuel-efficiency and safety technologies with the renowned off-road robustness of its toughest vehicles to deliver high productivity with best-in-class payload and outstanding total cost of ownership," he emphasises.
On display at the show was a Stralis X-Way Hook Lifter, designed for the recycling industry with its outstanding manoeuvrability, compact overall dimensions, ground clearance, traction and big payload.
For the urban sector, Iveco presented its sustainable light commercial vehicles and trucks featuring its advanced alternative traction technologies. Showcased here were the natural gas-powered Daily Blue Power and the Stralis X-Way NP (Natural Power).
Combined with a Cifa electric mixer, the Stralis X-Way NP is the first electric concrete mixer on a Bio-CNG truck, according to the spokesman. "The vehicle not only delivers the advantages of extremely quiet operation and particulate matter (PM) and carbon dioxide (CO2) emissions close to zero, but it also offers excellent operational features with an outstanding concrete load capacity of 8 cu m – a capacity in line with the best diesel chassis," he claims.
Its Super Loader version on an 8x4 chassis developed for concrete mixer applications weighs in at less than 8,845 kg, taking the customers' payload to new heights: it can carry 355 kg more load than the best vehicle certified by independent certification body UTAC, he adds.
The new Daily Blue Power, which has been crowned "International Van of the Year 2018", can access jobsites located in city centres round the clock, freeing construction businesses from the constraints of environmental regulations. It gives customers the choice of three technologies: compressed natural gas-powered Daily Hi-Matic Natural Power; zero-emission Daily Electric; and the Daily Euro 6 RDE Ready, the most advanced diesel technology in the industry.
The 7.2-tonne Daily Hi-Matic Natural Power allows a payload of up to 4.9 tonnes and a body length up to 6.4 m with its 5.1 mm wheelbase.
For the road building sector, the Stralis X-Way NP model offers a further environmental advantage combined with the payload and performance benefits. It is powered by the brand's industry-leading natural gas technology.
In the quarry segment, Iveco displayed two vehicles: the Astra HD9 8x6 Euro VI and a Trakker, both in dumper configuration. The Astra range is designed for heavy off-road applications in oil and gas, mining, quarrying, heavy construction and heavy haulage. The new HD9 86.50 Euro VI features a full automatic transmission with performances comparable to those of quarry and mining dumpers of the same payload, depending on the mission.
The Trakker, meanwhile, is engineered to work in all weathers and in all terrains – even the most extreme off-road conditions and combines robustness, reliability and efficiency with technology, says the spokesman.
Iveco, a brand of CNH Industrial, manufactures a wide range of light, medium and heavy commercial vehicles, off-road trucks, and vehicles for applications such as off-road missions. Its wide range of products include the Daily in the three- to 7.2-tonne segment, Eurocargo in the six- to 19-tonne category, and Trakker for off-road missions and the Stralis - both over 16 tonnes. In addition, the Astra brand builds off-road trucks and special vehicles.
More Stories