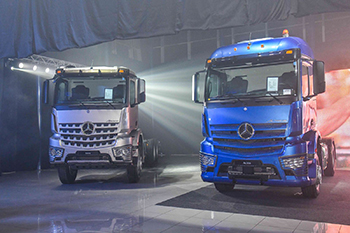 Al Haddad unveils new Mercedes-Benz trucks
May 2018
The all-new Actros and Arocs trucks from Mercedes-Benz Commercial Vehicles – part of Daimler Group – were launched last month at the Al Haddad Motors showroom, the authorised dealer in Bahrain.
This is the first time in 20 years Mercedes-Benz is making a new addition to its commercial vehicles product range.
The Actros and Arocs offer an enhanced level of reliability, efficiency and robustness to the Mercedes-Benz Trucks offering.
"Assembled at the world's largest truck plant in Woerth, Germany, the trucks come in specifically developed variants for the Middle East and Africa – designed and built to withstand the harshest operating conditions," says a spokesman for Mercedes-Benz Trucks.
The trucks have been tested extensively around the world, on both surfaced roads and in the most challenging terrain – including over 6 million km of endurance runs by the Mercedes-Benz Trucks Testing Centre in Abu Dhabi, UAE – and are a perfect platform for heavy-duty applications.
The all-new Actros is made for long-distance haulage as well as heavy-duty distribution haulage. It is available with up to 22 different cab variants and comes in steel or air-suspended versions.
The new Arocs, meanwhile, is exceptionally robust and extremely resilient and can work under the toughest off-road conditions, far from any highway.
Both models set a new benchmark when it comes to safety and assistance systems, supporting the driver and saving lives. This includes the optional Active Brake Assist 4; a radar-based emergency braking system that initiates maximum full-stop braking ahead of moving and stationary obstacles if necessary. It also warns the driver of any potential collision with pedestrians, triggering partial braking at the same time.
The event was attended by several VIP customers, a number of premier company owners, members of the media, and representatives from Mercedes-Benz Trucks, including its general manager Marc Legeay, as well as the Al Haddad Motors management and board of directors. It also commemorated 60 years of partnership between Mercedes-Benz Trucks and Al Haddad Motors, which was established in 1958.
The first launch for the all-new Actros and Arocs in the region was held in Dubai.
As part of Daimler Trucks, Mercedes-Benz Trucks has been a hallmark of premium quality for over 100 years now. Whether long-haul, construction site, or distribution transportation, the brand offers the right solution for the light-duty, medium-duty and heavy-duty truck segments, the spokesman concludes.
More Stories