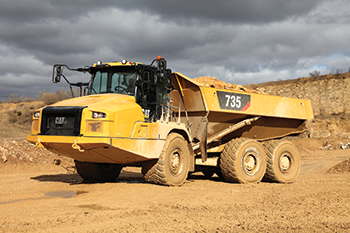 Redesigned Cats offer more power
May 2018
Caterpillar has extensively redesigned three articulated trucks, enhancing the field-proven features and performance of their C-Series predecessors (730C2, 730C2 EJ, and 735C), to address operator safety and convenience, improved control and powertrain advances.
The new articulated trucks – 730, 730 EJ (Ejector), and 735 – feature new operator stations with innovative new controls, transmission-protection features, new hoist-assist system, advanced traction control system, new stability-assist system, and a fuel-saving Eco operating mode, according to a company spokesman.
Of these, the 730 and 730 EJ are enhanced with automatic retarder control and a hill-start feature, while the 735 retains these features from its C-Series predecessor. All models are powered with a Cat C13 Acert engine and Cat CX31 transmission.
A new combined transmission-and-hoist lever provides efficient, single-lever control of vehicle speed and body-hoisting functions to reduce operator effort and to automate repetitive operations. A switch in the cab allows operators to choose either manual or assisted hoisting control.
New buttons in the combined transmission and hoist lever allows setting (limiting) machine speed and selecting the transmission waiting brake. In addition, a new shift-protection system brings the truck to a safe stop if a directional shift is made while the truck is moving.
The 730 EJ is designed to eject loads while travelling, providing positive dumping of the entire load, and also to work in areas with overhead restrictions and with soft underfoot conditions with improved machine stability.
For operator comfort, the cab's new external "spinal-ROPS" design incorporates a rear-quarter glass that eliminates a structural pillar in the C-Series design, for enhanced rear visibility. The overall cab design results in lower inside sound levels at 72 dB(A), a 7 dB(A) reduction compared to previous models.
Optional new infrared glass reduces solar heating inside the cab, and left- and right-hand sliding windows increase ventilation and facilitate communication with workers and the loading-vehicle operator. A new, automatic climate-control system offers increased heating and cooling efficiency.
For added safety, a new lighting system – controlled via a ground-level switch – illuminates the cab's entry steps and hitch area. Optional integrated payload lights provide an external indication of payload levels for the loader operator. Optional long-range, LED work lights improve visibility at night or in situations of lower visibility.
The optional Cat Connect Payload technology calculates payload via sensors on the walking-beam suspension, and load-status lights at all four corners of the cab roof ensure visibility to the loader operator from any angle. In addition, the standard Cat Detect/Stability-Assist system monitors the working angle of the tractor and body, as well as the grade, and cautions the operator if the machine is approaching the set threshold angle, stopping the dump process if continued action may result in potential tipping.
Further enhancing safe operation is the Cat Advanced Automatic Traction Control system, which features refined technology for proactively applying differential locks to avoid wheel spin. Also, a "terrain-based", throttle-smoothing system prevents acceleration surges when travelling over extremely rough terrain that makes keeping a steady pressure on the throttle pedal difficult, the spokesman says.
More Stories