Real Estate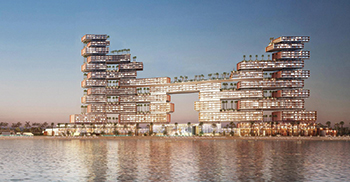 Royal Atlantis Resort wins key award
May 2018
The Royal Atlantis Resort & Residences, the first 'Super Prime' branded residences in Dubai, has been named the 'Best Real Estate Project (Luxury Residential)' by the Gulf Real Estate Awards 2018.
Announced on March 21, the Gulf Real Estate Awards are the Gulf's largest, most prestigious real estate gathering in the region.
As the first 'Super Prime' branded residences in Dubai, The Royal Atlantis marks a new generation of distinctive luxury residential apartments, set to transform the real estate market in Dubai. The new property includes sky-high homes offering uninterrupted views of the ocean and the Dubai city skyline with direct access to the enviable facilities of Atlantis, The Palm.
At the awards ceremony, The Royal Atlantis was recognised for its originality and aesthetics within the luxury residential category.
Conceived by the world's leading architects, designers and artists, The Royal Atlantis features architectural and design masterpieces that have never been seen before, redefining the concept of international luxury living.
More Stories