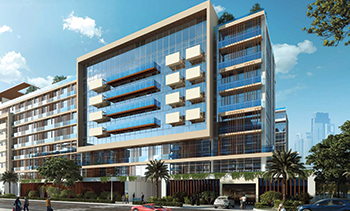 Azizi awards key deals
The mega Azizi Riviera and Azizi Grand are set to gain momentum with the award of contracts worth a total of $304 million.
May 2018
Azizi Developments, one of the leading private developers in the UAE, last month awarded key contracts worth a total of Dh1.12 billion ($304.34 million) for its landmark projects Azizi Riviera and Azizi Grand in Dubai.
Under a Dh952-million deal, the firm has appointed Prestige Constructions to develop the third phase of its flagship waterfront development Azizi Riviera in Meydan One.
A Dh12-billion waterfront development, Azizi Riviera draws its inspiration from the French Riviera waterfront lifestyle and will boast a total of 69 mid-rise buildings, comprising 16,000 units of studio, one-bedroom, and two-bedroom apartments.
As per the deal for Azizi Riviera, Prestige Constructions will build 13 mid–rise buildings with mixed heights of eight or 10 floors, which face the Dubai Canal and the boulevard. The construction work is set to be completed in the third quarter of 2019.
Announcing the project status, Azizi says with the work in full swing at Azizi Riviera, the Phase One and Two will be ready by the first quarter of next year, while the third and four phases will be completed in the third quarter of 2019.
The basement works are progressing rapidly on the first two phases, says the developer, while land excavation work has already begun on Phase Three.
Group chairman Mirwais Azizi says: "This represents our flagship project in Dubai and we are pleased to announce that it is progressing rapidly as planned."
A key feature of the Azizi Riviera development is a mega integrated retail district which will consist of high street bridge brands, leisure and entertainment options.
The overall development, on the banks of the Dubai Canal, will also offer access to long paved pedestrian paths and water transport, yachting facilities and a proposed marina, among other attractions.
Meanwhile, Azizi Developments has awarded a Dh166-million contract to UAE-based Progress Construction for the development of Azizi Grand, its first residential project coming up at Dubai Sports City.
Azizi Grand will boast a total of 431 apartments with balconies, including 238 studio, 140 one- and 53 two-bedroom units. Spread across 47,100 sq m, the building architecturally resembles four towers merging into one, says the Emirati developer.
It also features two swimming pools, six panoramic view elevators, and two staircases. The project is located along the bourgeoning Sheikh Mohammed bin Zayed Road corridor, and is just minutes away from the expanding Al Maktoum International Airport and the site of Expo 2020.
Azizi says: "We are delighted to announce the appointment of a contractor to begin construction of our first project in Dubai Sports City. Azizi Grand is a reflection of our strategy to develop vibrant communities in dynamic locations of Dubai and support the government's vision to further cement the UAE's dynamic real estate sector."
"Azizi Grand's modern design and superb location will offer a high-value proposition for long-term investors and end-users looking for strong returns."
Azizi is currently working on developing more than 200 projects in 2018. Among its biggest projects are Azizi Riviera and Azizi Victoria, a mega-community project in Mohammed Bin Rashid Al Maktoum City – District 7.
More Stories