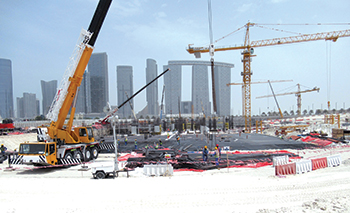 Work on $1.2bn Reem Mall on track
May 2018
Al Farwaniya Property Developments, the developer behind the $1.2-billion Reem Mall says work is progressing well on the latest retail, leisure and entertainment destination in Abu Dhabi.
The news comes after a $457-million senior credit facility was signed to complete the financing on the project.
Itinera Ghantoot, a UAE-Italy joint venture which is the lead contractor on the project, started work on the project last year and is due to complete it by the end of 2020. During the first three months of 2018, vast areas of excavation and backfill have been carried out and several major structural concrete pours have been completed.
Al Farwaniya Property Developments says all 14 tower cranes were due to have been erected on site by the end of last month.
With its completion, Reem Mall will bring over 2.9 million sq ft of retail, world-class leisure and entertainment facilities to the UAE capital such as Snow Park Abu Dhabi.
CEO Shane Eldstrom says: "Reem Mall will set a new benchmark for shopping, leisure and entertainment in Abu Dhabi and beyond. We have taken the time to thoroughly plan the financing and the physical construction of the project to ensure that it delivers a world class destination that Abu Dhabi and the wider UAE can truly be proud of."
"Construction on Reem Mall started late last year and we look forward to delivering this new lifestyle, retail and entertainment destination," he adds.
Reem Mall is located in the Najmat District on Reem Island, the residential and commercial master development by Reem Developers.
Al Farwaniya Property Developments is a partnership between three Kuwait-based companies: Agility, Agility-affiliate United Projects for Aviation Services Company (UPAC), and National Real Estate Company (NREC).
More Stories