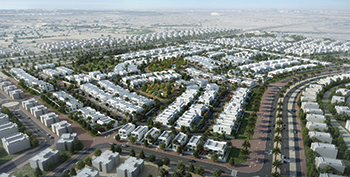 Arabella townhouses complete
May 2018
Dubai Properties has announced the on-time completion of the townhouses at Arabella in Mudon development in Dubailand.
Launched in May 2015, Arabella is a highly sought-after neighbourhood, situated amidst lush greenery and bright open spaces, in proximity of a host of attractive amenities.Boasting timeless elegance and clean, modern lines, its three- and four-bedroom townhouses ranging from 1,984 sq ft to 2,603 sq ft are fitted out with state-of-the-art finishes.
Dubai Properties is welcoming new residents with a unique customer-centric initiative – the Handover Gallery that offers a comprehensive range of services to facilitate a seamless move-in process.
Group CEO Raed Al Nuaimi says: "The timely handover of Mudon's Arabella reinforces Dubai Properties' reputation as a developer that places customers' needs at the heart of all we do. Whether we deal with seasoned investors or first-time home owners, we understand the dreams and efforts that go into making a real estate purchase decision."
Commenting on the Handover Gallery, Al Nuaimi adds: "At Dubai Properties, we believe in providing our customers with the best experience possible from the first interaction on the sales journey through to the final handover of the property."
"We want nothing to overshadow the joy of moving into a new home. As part of this priority, we have opened our Handover Gallery – a one-stop shop for all essential services that aims to bring convenience and efficiency to the move-in process," he states.
The services available at Handover Gallery include du and Dewa onsite registration, special deals from mortgage and home insurance providers, preferential rates with select movers, home appliance vendors and landscaping companies, says the developer.
More Stories