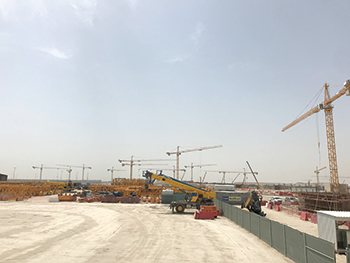 Potain shows prowess at airport site
June 2018
A total of 26 Potain tower cranes are currently being used by Turkish contractor Limak Insaat to help construct Kuwait International Airport's new KD1.3 billion ($4.3 billion) passenger terminal.
The cranes, supplied by NFT – Manitowoc's distribution partner in the Middle East for Potain cranes – include six high-capacity Potain MD 1100 cranes, 18 Potain MD 365 units and two Potain MC 125 cranes.
NFT Kuwait's sales team of Yousef El Ghabra, Fadi Daher and Ghady El Hachem say the impressive strength and reliability of the Potain cranes helped seal the deal.
"The six MD 1100 cranes will lift the heaviest material on site including concrete beams and columns, while the two MC 125 units will lift the lighter loads," says El Hachem.
"The 18 MD 365 cranes are ideal for the main steel structure and will also assist with concrete handling work," he adds.
The cranes are handling a variety of duties including the construction of the single roof canopy on the terminal building which will feature 66,000 solar panels. The panels will generate around 10 per cent of the building's electricity requirements. The cranes will also help pour 1 million cu m of concrete and install over 100,000 tonnes of structural steel.
Potain MD 1100 cranes are an increasingly popular option on large infrastructure projects where heavy structural components need to be handled. The impressive scale of the new airport terminal demands six of these special application units. They have a maximum capacity of 50 tonnes, and at their maximum jib length of 80 m they can lift 10.6 tonnes. On this project, the cranes are working with jib lengths of 80 m and at working heights of up to 63.5 m.
The MD 365 cranes have a maximum capacity of 16 tonnes and can lift 3.65 tonnes at their maximum jib length of 75 m. For the job at Kuwait airport, NFT worked with Manitowoc's Lift Solutions team to adjust the maximum jib length for the cranes to 80 m. The six-tonne capacity MC 125 cranes, meanwhile, are working with 50-m jibs and their maximum tip capacity is 1.15 tonnes at this distance.
NFT is amongst the largest tower crane owners worldwide. The company's huge fleet consists of a growing stock of 1,800 tower cranes, 500 hoists, and 35,000 spare parts. It has locations throughout the Middle East, Asia, Europe, Africa and Australia.
Since 2011, NFT has supplied cranes to a number of construction projects in Kuwait, and opened its first office in the country in March 2017 at the Al Soor Tower in Kuwait City. Potain also has a storied presence in Kuwait and, in partnership with NFT, supplied the first luffing jib and self-erecting cranes in the country.
"NFT is the only supplier able to offer industry-leading Potain cranes, which have the capacity and technology necessary to tackle the latest generation of Kuwaiti construction projects," says Nabil Al Zahlawi, CEO of NFT.
Ahmed Talhimet, Middle East sales director for Potain tower cranes, underlines the importance of NFT in ensuring Potain remains the market-leading brand of tower cranes in the Middle East.
"NFT has experienced uninterrupted growth since its first projects in Kuwait back in 2011, and Potain has been a consistent partner throughout," he says. "Strong local support – as provided by partners like NFT – is vitally important to selling and renting cranes. Our cranes are designed to deliver optimum performance on site, but we need partners such as NFT to provide the local back-up and support our customers expect."
The new terminal at Kuwait International Airport is due to complete in six years and is expected to help meet growing demand for air travel in the country. Over the past 10 years, air traffic has increased by 10 per cent annually, with the number of passengers travelling through Kuwait International Airport estimated at 12 million passengers in 2016. According to forecasts that number will increase to over 23 million by 2027.
Spread across 708,000 sq m, the vast new terminal will have the capacity to handle 25 million passengers a year and accommodate all aircraft types through 51 gates. The building will feature three symmetrical wings, each housing departure gates. Each facade will span 1.2 km and all will extend from a 25-m-tall central space.
More Stories