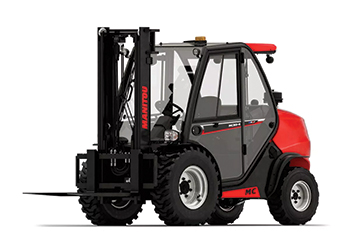 Manitou unveils new models
June 2018
The Manitou group, a leading rough-terrain handling equipment manufacturer, had two new rough-terrain forklift trucks among 13 products on display at the Intermat Paris, a leading exhibition of equipment, machinery and techniques for the construction and materials industries, held last April in France.
Other innovations showcased included two new versions of existing aerial work platforms and a rotating telehandler that picked up a prize at the Intermat Innovation Awards.
This year Manitou also celebrates the 60th birthday of its first forklift truck.
According to Jeremy Gachon-Guerin, Manitou's forklift truck product manager, the new rough-terrain forklift trucks – the MC 25 and MC 30 – emphasise the innovation that has been the hallmark of these products ever since the first model was launched 60 years ago.
With loading capacities of 2.5 tonnes and 3 tonnes, respectively, the models have ground clearances of 30 cm – among the highest on the market – making clearing obstacles easy, he says.
Extremely compact and only 1.45-m wide, these forklift trucks can be used for easily manoeuvring around work sites. They have maximum speeds of 25 kmph with options for four-wheel-drive versions for negotiating rough and steep terrain.
The four-wheel-drive buggy version of the MC 25 has a maximum lifting height of 3.7 m for a mast height of up to 5.5 m and a turning radius of 3.4 m, making it ideal for applications, such as masonry, building frameworks and cladding, as well as for assembling structures for use at events.
There are a total of six models in the MC range of forklift trucks with loading capacities ranging from 1.8 to 3 tonnes, and engine powers of between 26 kW and 36 kW.
Also presented was the latest version of its 180 ATJ aerial work platform. With its new Stage V engine, the platform no longer requires post-treatment. Its Kubota engine's fuel consumption has been reduced from 26 kWh to 19 kWh, while the services it delivers have been improved by the incorporation of a variable flow pump.
Another evolution in Manitou's range of aerial work platforms is the 100 VJR. With a new counterweight and a modified turret fitted with fork blades, the aerial work platform can now be moved by a forklift truck. New anchorage points have been added to the masthead, facilitating slinging operations for transporters. Intended for use when carrying out operations such as maintaining metal roof structures or assembling structures for events, this model is 10 m high and has a maximum loading capacity of 200 kg.
Manitou's most recent rotating telehandler, the MRT 2470, won a prize in January at the Intermat Innovation Awards for its stabilisation system. With a lifting capacity of 7 tonnes and a maximum reach of 24 m, the MRT 2470 is a high-precision handler that provides users with increased safety during heavyweight handling operations at heights.
More Stories