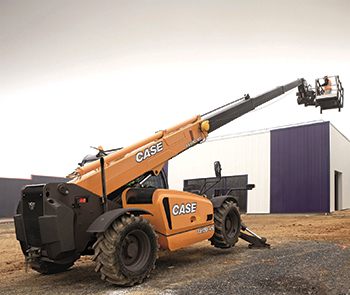 Case sees demand for large telehandlers
June 2018
Case Construction Equipment sees an increasing trend towards larger models of telehandlers in the region, with the overall growth in the segment driven by a rise in the machines' use in the residential construction, utilities and recycling sectors.
Case, a construction equipment brand owned by CNH Industrial Construction Equipment, offers a range of telescopic handlers which are engineered for the toughest commercial and residential applications.
Speaking to Gulf Construction, Franco Invernizzi, senior business director for Africa and Middle East of CNH Industrial Construction Equipment, says the telehandlers market globally is growing and if the trend continues, the total market should grow by 24 per cent.
He says the GCC market, however, which is heavily reliant on oil revenues, has been hit by the low oil prices.
"We are anticipating the market to remain flat until the year-end. Customers especially in oil-dependent countries are looking for machines that suit their budgets," he says.
Most of the demand in the region comes from the many large villa projects under way in the GCC as well as in the utilities and recycling sectors, Invernizzi adds.
Among the key products that Case offers the region are two telehandlers: the TX140-45, which has a maximum reach of 14 m; and TX170-45 with a maximum reach of 17 m. Both are capable of a maximum load of 4.5 tonnes. Their wide stabiliser legs provide for maximum stability while lifting, giving Case some of the highest lifting capacities in the market.
"Customers are also looking for the best reach and so the TX170-45 is on top of their list," Invernizzi points out.
Case TX telescopic handlers offer impressive stability through the combination of a long wheelbase, low boom pivot point and optimised counterweight. They use robust telescopic booms with inherent rigidity and strength to allow many hours of safe lifting. The range is powered by a 4.5-litre FPT Turbo after-cooled engine, and meet Tier III emission levels.
It has an all-terrain driveability; the powershift transmission handles high power delivery without heat build-up, while smooth gear shifting and three steering modes allow the operator to work in the toughest site conditions. Four-wheel steering greatly reduces the turning circle while crab steer offers the perfect solution when working with obstacles, he says.
A fully load sensing hydraulic system, with flow sharing technology, allows independent use of all hydraulic functions. All major operations, such as lifting and lowering and forward reaching, are controlled from a single servo lever, allowing the operator to keep one hand on the steering wheel when manoeuvring and the other on the loading control.
Both the machines are fitted with advanced load sensing safety equipment, which monitors the loads in real time.
Furthermore, long service intervals and compatibility with the Case electronic service tool (EST) ensure minimum downtime and increased profitability. For maintenance, a side-mounted engine with full length lift-up hoods ensures easy access for ground level servicing and regular maintenance.
Customers can also choose a carrier compatible with Case attachments or one designed to fit their existing buckets and work tools. Attachments include pallet forks, four-in-one buckets, crane booms, cement mixers and a range of manned platforms. These attachments, in fact, help Case to provide solutions to some of the key problems faced by customers – which "nine out of 10 times the solution is attachment related".
Invernizzi indicates that there has been an increase in demand for manned platforms in the region. In this segment of the market, Case has given high priority to safety, he points out.
"We have taken manned platforms into special consideration by adding a manned platform lock-out and increasing our stabiliser width. Working at height is always dangerous and special attention to safety has been reinforced."
More Stories