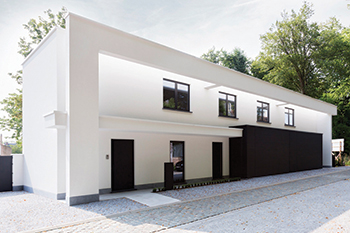 MasterLine 10 'perfect fit' for modern buildings
June 2018
Following the successful launch of the MasterLine 8 series of windows and doors, Reynaers Aluminium has rolled out its MasterLine 10 windows, the latest of the MasterLine variants.
The new model has been developed specifically for low-energy and passive buildings, making it a perfect fit in a contemporary architectural design, according to the leading European aluminium systems provider.
MasterLine 10 combines extreme thermal characteristics with a minimal visible width of the profile, according to Ali Khalaf, managing director of Reynaers Middle East, the regional office for the Belgium-based firm.
He says: "MasterLine 10 is an extension of the MasterLine range that was launched in 2016. The new range is largely made up of the same profiles and accessories, so that the number of new components is limited, but the number of design variants and their application area is enormous."
MasterLine 8 is proving to be a success in the Middle Eastern market and has been installed in an upscale project in the UAE, the Boulevard Heights, a twin-tower residential development on a landscaped retail podium, he says.
Khalaf says MasterLine 10 profiles are designed with the building trends of today and tomorrow in mind: namely, the requirements for low energy buildings, maximum daylight access, superb performance and safe homes (up to burglar resistance Class 3). The profiles are suitable for residential and commercial buildings as well as for public buildings where intensive use requires a robust and reliable system.
"The profiles allow very large glass windows to be combined with extreme thermal performance and have been tested for the highest burglary resistance," he says.
MasterLine 10 is available in three design variants: 'Functional' for sleek appearance, 'Renaissance' for a more classic look, and 'Deco' for contemporary style.
MasterLine 10's high insulating character is achieved through the integration of new innovative materials and the build-up of the thermal break. Frame-vent combinations achieve Uf values under 1.0 W/sq m K and at profile level, they decrease to a minimum 0.76 W/sq m K, Khalaf explains.
The profile has even achieved a passive housing certificate from the reputable Passive House Institute based in Darmstadt, Germany, under the leadership of the renowned Dr Wolfgang Feist, he adds.
Reynaers Middle East is the Bahrain-based regional subsidiary of Reynaers Aluminium, which manufactures and markets innovative and sustainable aluminium solutions for windows, doors, curtain-walls, sliding systems, sun-screening and conservatories.
Besides a wide range of standard systems, the company also develops tailor-made solutions for all market sectors – from residential to commercial and industrial projects. Reynaers' high-quality systems meet the most stringent demands in terms of comfort, security, architectural design, and energy-efficiency. It acts as a valuable partner for architects, fabricators, solar installers, project developers, investors and end-users.
Founded in 1965, Reynaers currently employs over 1,770 workers in 40 countries worldwide and exports to more than 70 countries on five continents.
More Stories