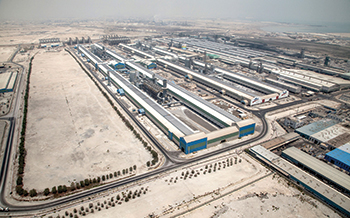 Alba Line 6 expansion project well on track
June 2018
Aluminium Bahrain (Alba), the Bahrain-based aluminium smelter, is progressing at full speed with the construction of its landmark Line 6 Expansion Project, according to Alba chairman Shaikh Daij bin Salman bin Daij Al Khalifa.
Shaikh Daij said: "We are very pleased with the overall progress of Line 6 Expansion Project; to date, the completion rate of Line 6 Smelter has exceeded 54 per cent while power station 5 has advanced 59 per cent and power distribution system 87 per cent."
With construction racing ahead on site in 2018, Alba remains committed to deliver the project in a timely and safe manner, he added.
Alba has revealed that its Line 6 smelter expansion exceeded more than 10 million work-hours without a single lost time injury (LTI), a major safety milestone, by mid-April.
Alba's chief executive officer Tim Murray said: "Safety is our best insurance policy. This milestone is truly a remarkable achievement by our Line 6 smelter team (over 6,000 employees and contractors) and is a testament to the workers and contractors' commitment to Alba's safety standards."
"I express my thanks to the Line 6 smelter teams and look forward to attain higher safety goals as we move ahead with Line 6 Expansion Project's construction."
Alba has won international accolades for its strict adherence to local and international safety standards, rigorous safety training initiatives and employee safety and health programmes.
Meanwhile, Alba has successfully closed the first part of the second tranche of €204.5-million ($247.01 million) export credit agency (ECA)-covered financing facilities.
It will finance the green anode plant, gas treatment centres, pot tending machines and anode bake furnace as well as related equipment for Alba's Line 6 Expansion Project.
Shaikh Daij said: "We are extremely pleased with the support received from our banking partners in the ECA-covered facilities. Their commitment is a vote of confidence in Bahrain, Alba and its landmark project – Line 6 Expansion Project."
"We also look forward to secure the final part of the second ECA-tranche as we progress with the construction of Line 6 Expansion Project," he added.
Alba successfully closed a $1.5-billion syndicated term-loan facility comprising two tranches: Conventional Facility and Islamic Facility in October 2016, and as well as the first tranche of the export credit financing of $700 million for Euler Hermes and SERV-covered facilities in July 2017, it stated.
More Stories