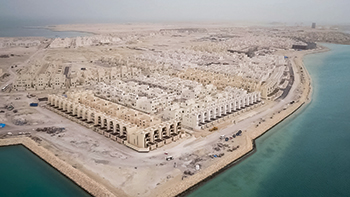 Mega residential town inaugurated
June 2018
His Majesty King Hamad bin Isa Al Khalifa last month officially inaugurated Northern Town, the biggest residential town in Bahrain, in the presence of HRH Prime Minister Prince Khalifa bin Salman Al Khalifa and HRH Prince Salman bin Hamad Al Khalifa, Crown Prince, Deputy Supreme Commander and First Deputy Premier.
The King announced that the new housing project would be named "Salman Town", in tribute to HRH the Crown Prince for his dedicated efforts and outstanding contribution to the nation's progress and prosperity, reported the BNA.
The new housing town will boast all major amenities including health, educational, religious and sport and transportation facilities in addition to modern road network and developed infrastructure for more than 90,000 residents.
The UAE-based Abu Dhabi Fund for Development (ADFD) has allocated Dh2.6 billion ($700 million) towards the project, as part of the Dh9.175 billion ($2.5 billion) UAE grant for Bahrain within the GCC development programme .
Housing Minister Basim bin Yacoub Al Hamer said work on more than 3,000 housing units had already been completed.
Meanwhile, bids have been invited bids from qualified consultants and contractors for work on 682 residential apartment units on islands 10 and 11 at Madinat Salman.
The Ministry of Housing in seeking to appoint a consultant to provide contract management and site supervision for all the 682 units, while the construction and maintenance of housing units at Madinat Salman is being awarded in two packages.
The first package will see a total of 400 social apartment units being built on plots 24, 25, 27 and 28, of island 10 while the second package will see the construction of another 282 units on plot 2 of island 11.
More Stories