Regional News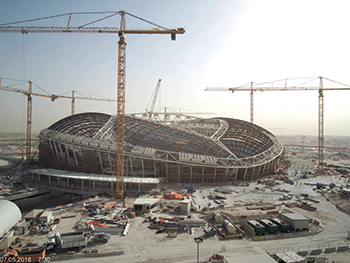 Roof installed at Fifa stadium
June 2018
Work on the Al Wakrah Stadium, a proposed venue for the 2022 Fifa World Cup tournament in Qatar, is progressing as per schedule with installation of the final piece of the steel roof structure completed.
Weighing 378 tonnes and measuring 92 m, the steel structure – known as an 'oculus beam' – sits 50 m above pitch level. It will connect and support the entire roof, while providing maintenance access to some of the retractable parts of the structure, said the Supreme Committee for Delivery & Legacy (SC), the event organiser.
The beam was welded and assembled onsite over 20 days. Originally six pieces, the structure was built on temporary frames before being lifted into place. The entire welding, assembly and installation process took 40 days.
Once completed, the stadium's retractable roof will be able to close with a PVC titanium dioxide double-side-coated membrane in approximately 30 minutes using a number of steel wires, SC stated. The roof will provide shade to the entire pitch and contribute to the efficiency of the stadium's innovative cooling system.
The design of Al Wakrah Stadium takes its inspiration from the seafaring tradition of the region, with the roof shaped to replicate the sails of a dhow.
The work is in full swing at the 40,000-seat venue, which will be hosting matches up to the quarter-finals stage in 2022, and is due to finish within the next 12 months.
More Stories