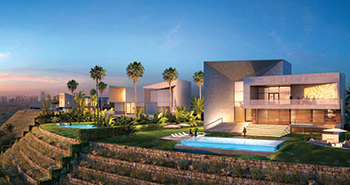 'Roberto Cavalli villas' to come up in Riyadh
June 2018
Dar Al Arkan, a leading real estate developer in Saudi Arabia, has announced the launch of its SR600-million ($160 million) Mirabilia upscale residential villas within the Shams Ar Riyadh development in Riyadh.
Strategically located on King Khalid Road, the SR10-billion ($2.6 billion) Shams Ar Riyadh is a premium development and is the first-of-its-kind in Saudi Arabia being designed as a world-class 'city within a city,' said the developer.
The 5-million-sq-m project comprises residential, commercial, and mixed-use spaces incorporated with the finest facilities, overlooking the stunning Wadi Hanifa. These residential units will have interiors by Italian fashion house Roberto Cavalli, it added.
A ceremony was organised in Riyadh recently to launch this high-profile development and partnership with Italy's topmost luxury fashion brand.
Mirabilia, or "Marvels" in Latin, presents a collection of high-end custom-built three- to seven-bedroom residential villas that range from 300 sq m to 1,600 sq m in Shams Ar Riyadh.
The floor-to-ceiling glass walls provide panoramic views of the lush green vistas of Wadi Hanifa to blend with Roberto Cavalli interiors inspired by wildlife and nature, in a fusion of universal harmony.
Shams Ar Riyadh is a self-contained community that expresses luxury and distinction in each of its components. It features vibrant retail centres, international restaurants and cafés, lush green landscapes and walkways, children's play areas, schools, clinics, government offices and mosques, said the Saudi developer.
Dar Al Arkan said it has so far invested more than SR1 billion ($266 million) to boost the infrastructure, including setting up of two power substations as well as main access roads.
Saudi Basic Industries Corporation (Sabic) had recently entered into a strategic partnership with Shams Ar Riyadh to create a residential compound for its employees and their families, boasting 600 fully equipped residential units built on a 1.8-million-sq-m area. Many of Sabic's team members moved in starting 2017.
More Stories