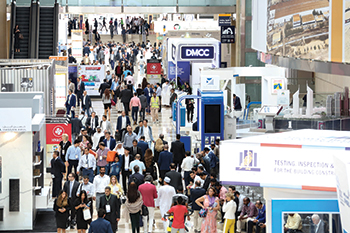 Big 5 rings in new era to put Dubai in the lead
June 2018
The Big 5, a leading international building and construction event, will ring in a new era this year under the theme "Shaping the Future of Construction", following Dubai's 10X Initiative and Happiness Agenda, said the organiser.
Dubai is rolling out its plan to be 10 years ahead of any other city and become the happiest in the world. Hence, developing a city that leads and sets the example for the rest of the world also means rethinking its built environment, remarked Josine Heijmans, the portfolio event director at dmg events.
"The Big 5, turning 40 next year, has decided to fully embrace the vision of the Dubai Future Foundation and its Dubai 10X initiative to put Dubai 10 years ahead of any other city," stated Heijmans.
The show has helped to bring to the region much of the building materials and technologies that developed Dubai, the UAE and the broader Gulf region over the past four decades. In 2018, Middle East's largest event dedicated to construction turns to the future, she added.
Under the theme "Shaping the future of construction", organiser of The Big 5 has reworked the event focusing on innovation. Its goal is to respond to the government's call and help the industry address the challenges of today and tomorrow by presenting and promoting innovative solutions across all stages of the construction lifecycle.
The exhibition, which draws thousands of companies and construction professionals from around the globe every year to Dubai in November, is introducing features and co-located events and enhancing its existing portfolio to provide a brand new platform to move the building industry forward. These include:
• Innovation Corner and the Start-Up District – aimed at bringing together the brightest ideas, minds and initiatives in construction.
• Women in Construction by The Big 5 – an initiative to shed light on, and empower women in the industry.
• The Urban Design & Landscaping Expo – a new event on landscaping, infrastructure and urban development.
• The HVAC-R Expo – a dedicated exhibition for the heating, ventilation, air-conditioning and refrigeration sector, with a focus on energy efficient and innovative solutions.
• The Big 5 Solar – showcasing solar solutions for construction.
• Excellence in Construction Summit – The Big 5's high-level summit, now in its third edition, which explores current and future trends in construction.
• The Big 5 Innovation in Precast Summit – a two-day event dedicated to innovative and efficient precast solutions.
The 39th edition of the top construction expo takes place from November 26 to 29 at the Dubai World Trade Centre. Last year's show welcomed over 65,000 participants and more than 2,600 exhibitors from 64 countries.
More Stories