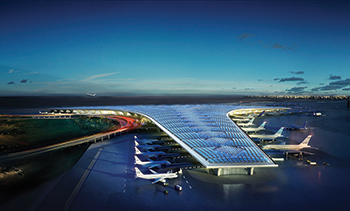 Major expansions
With passenger traffic in the Middle East growing at 5.9 per cent, the region is focusing on developing its aviation sector. Currently, the MEA has the second highest value of airport projects in the pipeline, worth $163.5 billion.
July 2018
A whooping $1.1 trillion is to be spent on airport construction globally, according to data from the Centre for Aviation (CAPA), a leader in global aviation knowledge.
The data – cited by the organisers of the Airport Show, held annually in Dubai, UAE – indicates that some $255 billion is being invested in greenfield airport projects around the world and $845 billion in projects such as the construction of new runways and terminal buildings, and runway and terminal extensions.
Regionwide, Asia-Pacific has the highest value pipeline, at $291.2 billion, followed by the Middle East and Africa (MEA) with $163.5 billion.
The report says the total value of 152 active aviation-related projects in the Middle East reached $57.7 billion, with Saudi Arabia accounting for the largest share, followed by the UAE and Kuwait.
Another report by BNC Network, a leading project intelligence provider in the Middle East and North Africa (Mena) region, puts the value of projects in the GCC at $48 billion, with a total of 95 listed projects as of May 2018. Among these, 68 projects worth $45 billion are for airport terminals while 27 projects worth more than $3 billion involve the construction of hangar, runway and ancillary facilities, it says.
Regional airports
Saudi Arabia, which has 27 airports, launched mega plans earlier this decade which involved the development of four new airports and expansion of existing facilities. In line with these plans, the country last month witnessed the soft opening of the $7.19-billion King Abdulaziz International Airport in Jeddah. It also has a new international airport under construction in Taif and expansion under way at Riyadh's King Khalid International Airport, while plans are on the anvil for the expansion of King Fahd International Airport in Dammam.
Oman, too, opened a $1.8-billion terminal in Muscat earlier this year, which has the capacity to handle 12 million passengers per year. Feasibility studies are now under way for establishing an air cargo village, as part of further plans to develop the airport precinct and position the sultanate as a regional hub for air cargo and air logistics services.
A new terminal is also being built at Duqm airport, which is supporting the massive growth of the Special Economic Zone at Duqm (Sezad), while regional airports are also under development in Sohar and Ras Al Hadd.
In Bahrain, work is in progress on the $1.1-billion Airport Modernisation Programme (AMP) at its international airport, which is expected to open in the third quarter of 2019. The new terminal will boost the airport's handling capacity from four million to 14 million passengers per year.
The country has also mooted plans to build a new airport on an artificial island.
Kuwait made headlines early this year by announcing plans for a new $12-billion greenfield airport with a capacity of 25 million passengers a year. The new world-class airport is expected to be located in northern Kuwait and be developed by the private sector on a build-operate basis on land allocated by the government.
Meanwhile, work is under way to boost capacity at the country's existing airport through a number of projects such as the construction of a new passenger terminal (T2) with a capacity of 25 million passengers annually, which is scheduled to complete by 2022. Work has been completed on a new passengers support terminal (T4), which is slated to start operations within this month (July).
Among other developments, a dedicated passenger terminal for the local airlines Jazeera Airways, built under an investment of KD14 million, became operational in May at Kuwait airport, where two new runways and a new control tower are also being built.
Kuwait is also building a new cargo city on an area of 3 million sq m, work on the first stage of which is now under way.
In the UAE, work is ongoing on mega airport projects such as the Midfield Terminal at Abu Dhabi International Airport and Dubai South (Al Maktoum International Airport). The $3.3-billion Midfield Terminal Building – a much-delayed project reportedly due to complexities regarding the design and execution of the roof – will double the airport's capacity to 30 million passengers a year. It is now scheduled to open in 2019.
Elsewhere in the UAE, Sharjah flagged off its $408-million airport expansion in May by awarding a project consultancy services contract to ADP Ingénierie. The expansion project will be carried out under several phases and will include constructing new buildings and a terminal for arrivals and departures.
Air traffic growth
According to Avin Gidwani, chief executive officer of BNC Network, investment in airport capacity expansion as well as the development of new airports will help manage the future demand of air traffic in the region.
"The airport projects are broadly in line with the development of the region's aviation sector that is led by the two UAE carriers – Emirates and Etihad Airways as well as other leading regional airlines such as Saudi Arabian Airlines, Qatar Airways, Gulf Air, Kuwait Airways, Air Arabia, Fly Dubai and Oman Air," he says.
Airbus recently said in its Global Market Forecast, the fleet size of carriers in the Middle East will more than double from 1,250 to 3,320 aircraft over the next two decades.
The future demand for the Middle East's fleet is valued at $600 billion from a total market worth more than $5 trillion, the Airbus forecast says. The current orders from Middle East-based carriers stand at 1,319 aircraft.
The report says passenger traffic to, from and within the Middle East will grow 5.9 per cent annually until 2036, well above the global average of 4.4 per cent. While traffic between traditional markets will grow at a steady rate, the highest growth is expected to be on routes to Latin America (8.5 per cent per year to 2036).
The aviation sector is a crucial economic pillar for Dubai, accounting for more than 27 per cent of the emirate's GDP, or $26 billion, according to Oxford Economics. This is expected to increase to more than 37 per cent by 2020 with a total annualised impact of $53 billion.
Gidwani says: "Dubai economy is a classic example and a textbook case of how the aviation sector can make a significant difference in an economy. Emirates and Fly Dubai – the two airlines that use Dubai as their hub – are two major enablers of Dubai economy. Not only does Emirates fly passengers from Africa to China, but it empowers businesses and helps trade flow from one country to other and one region to other and therefore helps economies to grow."
"These factors will continue to help the GCC airlines to grow and the airports thus will need to expand to handle greater passenger and freight traffic," he concludes.
In the next 20 years, the UAE's aviation sector is expected to stand next to that of the US and China, according to Jeff Johnson, vice-president of Boeing International and president of Boeing Middle East. Looking at the Middle East, 3,000 aeroplanes are set for delivery in the next 20 years – triple the current capacity.
According to IATA, the Middle East's aviation market is forecast to grow five per cent annually until 2036. Predictions show the sector will witness an extra 322 million passengers a year on routes to, from and within the region and the total market size will expand to 517 million passengers over this period.
The Middle East gained a five per cent share of the global aviation market last year, flying 206 million passengers – an increase of more than nine per cent over 2015, it states.
More Stories