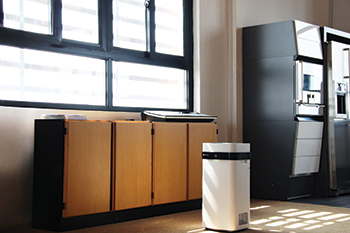 Airdog X5 keeps a close watch on pollution
July 2018
Rentech Middle East, which focuses on cost-effective clean water storage, renewable energy and clean environment, has recently introduced state-of-the-art air purifiers featuring ionic air purification technology in Bahrain.
Known as Airdog X5, the Ionic Wind Filtration technology of these air-purifiers cleans out microscopic particles down to 0.0146 microns, and has been proven to remove 99.99 per cent of formaldehyde and other harmful pollutants like dust, smoke, pollen, pet dander, bacteria and virus from the air, says Ashok Roberts, director of the Bahrain-based Rentech Middle East.
"Airdog X5 is vastly superior to any of the more traditional air purifiers, is virtually silent during use and its washable filters –unlike hepa (high-efficiency particulate air filters) – eliminate the need for periodic replacement and enable easy maintenance. An optimised, aerodynamic design that enables high-volume airflow means the indoor air gets cleaner, faster and more quietly," he claims.
The unit's energy-efficient and waste-free design, saves time, money, and the planet, Roberts adds.
The Airdog X5 can be app-controlled, by which the user can turn the unit on and off, enable auto mode, child lock, and set fan speed settings of the unit. The air quality can be tracked remotely in the home or office to see how it stacks up against the air outdoors.
Roberts points out that indoor air quality is estimated to be three to four times more polluted than outdoor air and needs to be purified as it can be especially harmful to pregnant mothers, children, the aged, and the sick.
Rentech Middle East is a leading supplier and installer of sectional water tanks, air purifiers and solar water heaters in Bahrain. It is part of a Bahraini group with interests in plastics and aluminium.
More Stories