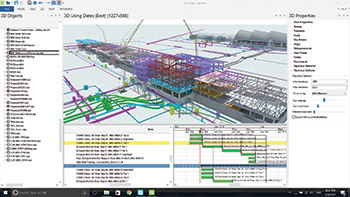 Bentley gains edge in 4D modelling
With the acquisition of Synchro Software, Bentley Systems can now offer solutions for comprehensive construction project delivery.
July 2018
Bentley Systems, a leading global provider of comprehensive software solutions for advancing infrastructure, has acquired London -headquartered Synchro Software, a market leader in 4D construction modelling software, for scheduling and project management.
The acquisition broadens Bentley's ProjectWise construction offerings — which already include ConstructSim, a leader for 4D construction modelling in project delivery of industrial plants. With construction project management in 4D, benefits of building information modelling (BIM) can extend throughout infrastructure project delivery and asset lifecycles, as traditionally disconnected workflows become digital workflows, says Bentley.
"In construction modelling for industrial projects, the market is already converging around ConstructSim's advanced work packaging and workface planning. In the advancement of digitalisation in civil and building construction, the needed impetus for these 'industrialised' advantages is precisely what we are now announcing. For infrastructure projects, integrating Synchro's 4D construction modelling completes the reach of our ProjectWise CDE," says Stephen Jolley, vice-president of construction for Bentley.
Synchro has increasingly become the standard for major contractors leveraging BIM through project delivery, according to a spokesman for Bentley Systems.
Synchro's strong growth, since the introduction of Synchro PRO in 2007, has coincided with the burgeoning adoption of BIM for design workflows — which, however, stops short of considering construction planning, scheduling, and project management strategies.
The spokesman says contractors have been constrained by the limitations of stand-alone planning and scheduling programs, without digital visibility in the engineering information coalesced within the separate 3D BIM environment.
He adds: "Construction planning typically lacks the workface-level granularity and depth of detail, and exploration of sequencing alternatives, to sufficiently minimise risk and schedule variance.
"Also, contractors characteristically need to create their own independent 3D models to serve construction only, in the process orphaning the BIM deliverables, which can then never – despite their engineering intelligence – accurately represent the as-built asset for operations and maintenance."
Within Synchro, 3D BIM deliverables are linked with the 4D time dimension to intrinsically and immersively synchronise, through digital workflows, the construction strategy, work breakdown structure, schedule, costs, resources, supply chain logistics, and progress.
Synchro's 4D construction modelling appropriately incorporates other construction variables (human, materials, equipment, falseworks, and space) for safe, reliable, and predictable project delivery performance. Synchro includes intrinsic CPM scheduling, or users can maintain external project schedules.
"By synchronising changes from BIM, schedule and/or field conditions, Synchro provides clear visibility into both the project data and the design, making it quick and easy to communicate and analyse the impact of changes on the entire project delivery process. This also enables Synchro users to compare construction strategy alternatives — even in early stages of design and bid processes — and to evaluate the feasibility and efficiency of different scenarios, deriving insights toward the best possible construction outcomes.
"By incorporating Synchro 4D construction modelling through the ProjectWise CDE, infrastructure project delivery can now benefit from unprecedented digital workflow advancements. For the first time, change synchronisation can assure that BIM deliverables are updated for changes which occur during construction, aligning the as-designed, as-constructed, and as-operated digital engineering models to improve both project performance and asset performance. And, in particular for civil infrastructure projects, constructioneering digital workflows can automate direct relationships between the project's digital engineering models, the continuously-surveyed digital context of site conditions before and during construction, and positioning devices controlling construction equipment and feeding back as-built conditions," the spokesman explains.
For London's Crossrail, Synchro digital construction innovatively applied Bentley Systems' iModel work packaging to complete the reach of its BIM application portfolio and its CDE (Connected Data Environment). Crossrail, the largest European ongoing construction project, is now being completed on time and on budget.
More Stories