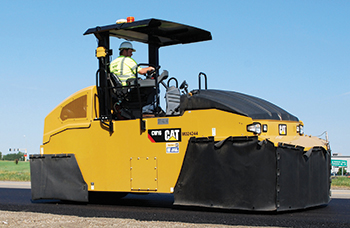 Cat's new roller adjusts weight to fit job
July 2018
Caterpillar has rolled out its CW16 pneumatic (rubber-tyre) roller designed for efficient performance on highways, streets, roads, lane additions, industrial sites, overlays, or other mid-size jobs.
The machine is designed for use on granular materials and all types of asphalt-mix designs, and is available as a standard nine-wheel model with a 69-inch compaction width or as an optional 11-wheel model with an 84-inch compaction width, according to a Caterpillar spokesman.
Depending on the ballast used (including water, sand, steel, or combinations), the operating weight of the CW16 varies from a 5,200 kg base configuration to an approximate maximum weight of 15,000 kg for the nine-wheel configuration and 14,900 kg for the 11-wheel configuration.
Operating weight can be adjusted to suit job requirements. "Per-wheel weight can be varied from 580 kg to 1,670 kg for the nine-wheel model and from 480 kg to 1,350 kg for the 11-wheel model," the spokesman says.
Oscillating front wheels assist in compacting soft voids across the entire machine width, and the 11-wheel configuration increases efficiency in chip-and-seal applications. A tyre overlap of 1.25 inches ensures even compaction across the surface. Each wheel is equipped with self-adjusting scrapers, and a water-spray system deters material from adhering to the wheel surface. Standard cocoa mats help retain water to keep wheels wet, and heat-retention aprons are available.
The CW16's pressurised water-spray system is designed with dedicated spray nozzles for each wheel.
The CW16 is available in two engines rated at 101.9 hp – C3.4B Acert and C4.4 – to meet US, EU and Chinese emissions requirements. An Eco-mode, in combination with an automatic speed-control system, is designed to save fuel, lower sound levels, and deliver smooth transitions for optimum mat quality.
More Stories