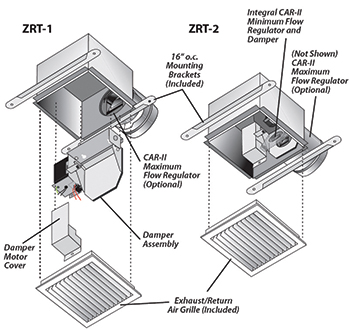 Aldes launches smart ventilation systems
The Zone Register Terminal is said to provide flexibility and on-demand control to central ventilation systems.
July 2018
UAE-based Aldes Middle East, a major provider of ventilation and air management and diffusion systems, has launched its Zone Register Terminal (ZRT) for hotel ventilation systems, which is said to improve the indoor air quality in guest rooms when they are occupied while saving energy when they are vacant.
"ZRTs are designed to introduce flexibility and on-demand control in central ventilation systems," says a spokesman for Aldes Middle East. "Used in both large and small systems, the ZRT zonally regulates ventilation without the need for individual fans. Each unit comprises a combination grille, register box, control damper, and constant airflow regulator (CAR). This unique combination provides up to four different control schemes without the need for expensive pneumatic, electronic, or DDC (direct digital control) control systems."
He points out that the CAR is one of the key parts of ZRT, which ensures a constant flow in the system regardless of any pressure changes. It contains a passive control element which responds to duct pressure and does not require electric or pneumatic sensors or controls.
"The control element of the CAR is a flexible bulb, which inflates and deflates in response to the static pressure difference across the control. This operation regulates the free area opening through the CAR, resulting in maintaining the velocity and specific airflow set points," the spokesman explains.
The second important part of ZRT is the 'On/Off' control damper, which allows ventilation to be controlled based on demand. Once ZRT is connected to the room management system, the control damper will get a signal to close the ventilation if the room is not occupied.
The fans and the fresh air handling unit in this system are equipped with a speed control. "The fan speed should be reduced when rooms are not occupied and when the ventilation demand reduces," he says, adding that the ventilation can be closed completely when the room is not occupied, maintaining a minimal ventilation rate at such times.
ZRT has different models and options and can be fitted directly with a grille or can be ducted.
ZRT, which is produced in Aldes's US factory as well as at Aldes Middle East's facilities in the UAE, has been successfully installed on different types of projects, particularly in the hospitality sector, bringing significant energy and cost savings for such facilities, the spokesman concludes.
Aldes Middle East has been present in the UAE for the past 30 years and set up its own state-of-the-art production facility in Sharjah Airport International Free Zone in 2002. With nine production lines, a 10,000-sq-m production site, the company is well equipped to meet market needs with standard and customised solutions. Aldes Middle East manufactures a range of heating, ventilation and air-conditioning (HVAC) accessories such as dampers, variable air volume (VAV) boxes, grilles and diffusers, sound attenuators and fire protection products.
Aldes Middle East is ISO-certified for ISO 9001-2015, ISO 14001-2015, ISO 18001-2007 standards.
More Stories