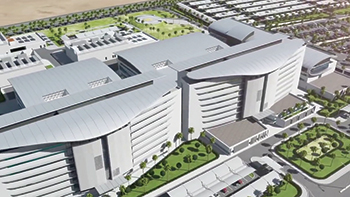 Tenders due for $266m Bahrain medical city
July 2018
Arabian Gulf University (AGU) said the preparatory work on its multi-million-dollar King Abdullah bin Abdulaziz Medical City in Bahrain is nearing completion, according to the BNA.
"Preparation are under way to receive the applications of Bahraini, Saudi, and Bahraini-Saudi contracting companies as well as internationally allied Bahraini and Saudi companies," said AGU President Dr Khalid Abdul Rahman Al Ohaly.
The late Saudi King Abdullah bin Abdulaziz Al Saud had directed the authorities to build the medical city at an investment of SR1 billion ($266 million) affiliated to the AGU, while HM King Hamad bin Isa Al Khalifa donated 1 million sq m of land south of the capital Manama for the project, said the report.
Once completed, the mega project coming up near Khalifa City will boast 300 beds and a full range of outpatient clinics, in addition to 15 operating rooms and clinical research centres that address the health issues of the Gulf, such as diabetes, obesity, cancer and cardiovascular disease, it stated.
Dr Al Ohaly said the project was gearing up to enter the second phase, which includes the prequalification of contractors to build the university hospital for the medical city. He was speaking to the media after visiting the medical city project site near Khalifa City in the Southern Governorate.
Dr Al Ohaly was later briefed on the areas being prepared through excavation, land levelling, road paving, and preparations for the hospital's infrastructure, staff housing and accompanying service.
More Stories