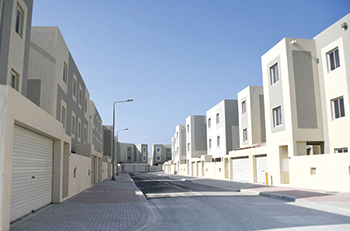 Delivery of Salman Town homes under way
July 2018
Bahrain's Housing Ministry has started the distribution of 3,000 ready housing units to the beneficiaries at Salman Town, the largest under-construction town in the kingdom, in terms of area, number of units and services.
The move is in line with the order of HRH Prince Salman bin Hamad Al Khalifa, the Crown Prince, Deputy Supreme Commander and First Deputy Prime Minister, to distribute 5,000 housing units, under the directives of His Majesty King Hamad bin Isa Al Khalifa to meet the citizens' needs, reported the BNA.
The Salman Town unit handover is taking place in parallel to the delivery of the keys of the Khalifa Town's units to owners, the report added.
Once completed, the six-district Salman Town will accommodate about 100,000 people, said Shaikh Abdulla bin Ahmed Al Khalifa, the Housing Ministry's undersecretary, adding that the infrastructure of the town, and the basic services for other future projects are being completed.
Meanwhile, the Ministry of Housing has invited bids from qualified consultants and contractors to provide contract management and site supervision consultancy services as well as construction and maintenance for a major residential project coming up at Salman Town.
The project is being funded through the UAE grant provided by the Abu Dhabi Fund for Development (ADFD) under the GCC Development Programme.
The ministry seeks to appoint a consultant to provide contract management and site supervision for all the 720 units coming up on plots 17 and 18 of Salman Town, while the construction and maintenance of social apartments is being awarded in two packages, each consisting of 360 units, stated a tender notification from the ministry.
More Stories