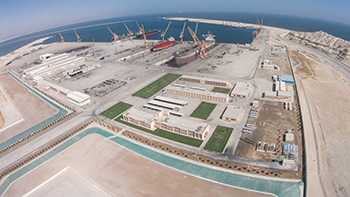 $5.75bn EPC work to start on Duqm Refinery
July 2018
Duqm Refinery, a joint venture between Oman Oil Company (OOC) and Kuwait Petroleum International (KPI), has issued a "notice to proceed" to the contractors of the three engineering, procurement and construction (EPC) packages worth $5.75 billion for the project.
The move, which comes following the ground-breaking ceremony held in April, signifies the start of construction work of the 230,000-barrels-per-day (bpd) refinery project, said the company.
The project is expected to be completed and ready for start-up 42 months from the issue of notice to proceed.
Initially, the contractors will allocate resources to complete the detailed engineering design work at their home offices where they will be joined by staff from Duqm Refinery, it added.
Jacobus Nieuwenhuijze, the project director of Duqm Refinery, said: "This truly is an exciting and important milestone for all of us, since it not only signifies start of construction work but also culminates the efforts put in by stakeholders to have the project reach this stage."
Nieuwenhuijze pointed out that the contractors and the project team have prepared themselves thoroughly to ensure a solid start of the project activities.
Duqm Refinery's scope of work is divided into three separate EPC packages. Package One, being developed by a joint venture of Técnicas Reunidas and Daewoo Engineering & Construction Company, includes the process units of the refinery, while the second package, being developed by a joint venture of Petrofac International and Samsung Engineering, consists of the utilities and offsite facilities.
The third package is being handled by a joint venture comprising Saipem and CB&I, and the scope of work includes the product export terminal at Duqm Port, the Duqm Refinery-dedicated crude storage tanks in Ras Markaz and the 80-km interconnecting pipeline from these crude tanks to Duqm Refinery.
More Stories