UAE Focus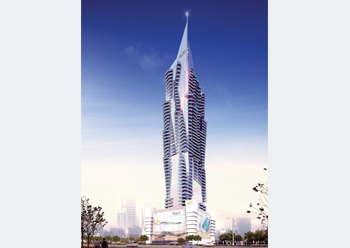 RSG moves ahead with hotel project
July 2018
UAE developer RSG Group of Companies has awarded a Dh500-million ($136 million) construction deal to Al Habbai Contracting for its landmark five-star hotel and hotel apartment property 'Sabah Rotana' in Dubai.
Sabah Rotana, a premium property that rises to 54 floors on Sheikh Zayed Road, is a collaboration between property developer RSG Group of Companies and the Rotana hotel chain.
The solitary tower encompasses five-star rooms, serviced hotel apartments, food and beverage outlets, nightclubs and meeting rooms, among other amenities. Its opulent Sky bar offers guests spectacular views of Dubai.
The project, to be launched before Expo 2020, is a marked departure from the standard architectural designs. The asymmetrical balconies, pointed tapered sides add a layered dimension to the building that both inspires and challenges, said the developer.
More Stories