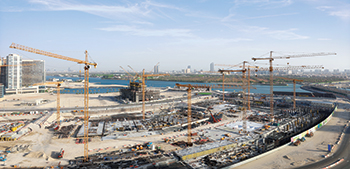 $1.2bn Reem Mall set to rise above the ground
July 2018
Work is in full swing at Abu Dhabi's $1.2 billion Reem Mall, the emirate's leading retail, dining and leisure destination, with the substructure nearly finished and several sections of floor of the superstructure already completed, said a top official.
Unveiling the construction progress, Al Farwaniya Property Developments, the developer behind Reem Mall, said that infrastructure works have begun with geotechnical investigations required for the project's elevated roads which will provide unparalleled access to the mall for visitors.
The construction of the mall began in late 2017, and within the first few months, 13 tower cranes had been erected and the raft foundation works were well advanced with over 55,000 cu m – more than 9,000 truckloads – of concrete set in place, and over 5,500 tonnes of reinforcement installed.
The Reem Mall site is located in the Najmat District on Reem Island, the residential and commercial master-development by Reem Developers which, on completion, will boast a population of 200,000.
Providing a construction update, Al Farwaniya Property Developments CEO Shane Eldstrom said work on the superstructure of the project was now under way with the first suspended slabs recently poured and vertical works progressing across the whole site.
"We are very excited about the pace at which Reem Mall construction is progressing. The cranes are on site, we have nearly completed the substructure and have already completed several sections of floor in the superstructure," stated Eldstrom.
Once ready, Reem Mall will bring 2 million sq ft of leasable area which will comprise more than 450 retail brands, dining options as well as a range of entertainment concepts, including the much-anticipated Snow Park Abu Dhabi, a destination snow park attraction.
Meanwhile, the UAE-based NFT Specialized in Tower Cranes said it has provided 13 of the 14 tower cranes it has been contracted to supply to the project – and has managed to successfully complete installation in less than five weeks. These cranes include the MDT 368 L12, MC 475, MD 560, MD 310, MC 310 K 12 and the gigantic MD 1100 lifting 40 tonnes, it said.
"Two to three erecting teams were simultaneously working on site," remarked Bassem Kini, the operations manager in charge of the project from NFT.
While one team was assembling the masts, the other was involved in the installation work. This coordination was orchestrated by the operations manager to ensure NFT met the deadline of the JV.
"The erection went smoothly thanks to the coordination and support of the site team", remarked Kini.
The construction contract for the project was awarded in late 2017 to Itinera and Ghantoot Transport and General Contracting.
More Stories