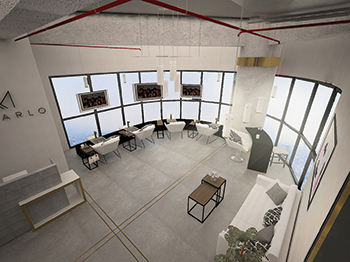 Liwan designs salon with touches of gold
July 2018
Elegant touches such as gilded metals and gilded strips along the flooring to echo the logo are some of the highlights of a new chic beauty salon that has just been completed in Kuwait.
Liwan Projects Management – a budding design consultancy established a year ago – has employed the industrial-style concept for the new Mimarlo Beauty Salon.
Located in Tamem Tower in Sharq, Kuwait City, the salon covers an area of 100 sq m. This space is divided into four areas – for pedicure and manicure, hair styling station, make-up room and storage area – to meet the design requirements of the project, Rashed Altammar, CEO of Liwan Projects Management, tells Gulf Construction's ABDULAZIZ KHATTAK.
"The outstanding feature of the project," says Altammar, "is that all the straight lines are created to leave a modern industrial style impression on the clients. We can see that all of the golden metal lines are connected, starting from the ones on the floor leading to the walls and ending at the lights on mirrors."
The salon's interior design is welcoming right from when the client first touches the entrance door, which has a golden metal logo-shaped handle.
"You will see the same design on a larger scale right from the nail polish shelves to the reception desk, which divides the salon into two separate spaces according to their functions," says Altammar.
A centrepiece of the pedicure and manicure area is a water fountain, which imparts a calming effect on the zone. Meanwhile, in the hair styling station, the drawers are mounted on the wall while ensuring they are at the same level as the horizontal lines on the doors in the storage and make-up room areas. Simple tools like mirrors are used to reflect light in different directions, which provide a larger visual perspective and a feeling of spaciousness.
Abundant natural light enters through the building's glass facade which accentuates the combination of modern and industrial elements. All the window-facing salon chairs and even the leather sofa in the waiting area engage the customers with the views.
"As lighting plays an important role in the strength of the design, we installed suspended lights next to the air-conditioning ducts. These made all areas look elegant with a nice contrast especially between that industrial-look ceiling," says Altammar.
He continues: "In Mimarlo, one thing leads you to another. If you move from the hair styling area, the gold metal floor lines will guide you to a glass sliding door with a black metal frame that leads to the hair washing zone which has double the space and huge wall-mounted mirrors."
Within its first year of operation, Liwan Projects Management has handled a range of projects including the designs for offices for Be Side Real Estate Company and Byot Alwatya Restaurants Management Company, 3Lagy Pharmacy, Nourish Coffee Shop and Restaurant, and Matchacha Coffee Shop, all in Kuwait.
More Stories