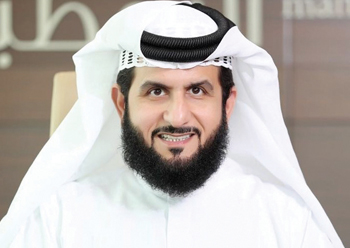 Positive outlook for FM sector
After posting strong growth in H1 2018, Mefma sees new cutting-edge technologies, sustainability and energy analysis as key factors that will further boost the region's FM sector.
August 2018
The facilities management (FM) industry in the region is adopting the latest developments in the sector to push for higher efficiency and productivity in businesses, in addition to creating a positive environmental impact.
And in the region, the UAE – specifically Dubai – has been at the forefront of adopting and implementing relevant technological advancements taking place worldwide, Jamal Lootah, president of Middle East Facilities Management Association (Mefma), tells Abdulaziz Khattak of Gulf Construction.
Recent industry reports have shown that the UAE's FM segment has reached around Dh14 billion ($3.81 billion), which represents around 10 per cent of the Gulf sector's total volume of around $37 billion, according to Mefma.
Lootah says a higher preference for FM-based services is an indication of a rising recognition of FM's significant role in efficient and effective delivery of support services and successful integration of people, systems, places, processes, and technologies. FM also enables cost-effective work processes; helps implement smart systems and apps; and leads to increased efficiency and full compliance with global standards and best practices, he adds.
The Mefma president says sustainability is reshaping the FM industry at the regional and global levels. And the emergence of new cutting-edge technologies such as blockchain, artificial intelligence (AI), robotics, building information modeling (BIM), building automatic systems (BAS), FM automation, and sustainability and energy analysis, among others, has further fuelled the sustainability drive and carbon footprint reduction initiative within the FM sector in the Middle East.
"Basically, sustainability, according to FM experts, refers to implementing smart decisions leading to a positive environmental impact," says Lootah.
He expects to see continuous development of next-generation technologies as more and more FM organisations shift their attention towards sustainable practices and sustainable asset management to achieve streamlined daily operations, implement effective policies and procedures, and optimise resources.
Similar to their counterparts abroad, regional FM companies have been actively putting in place fundamental measures to improve their business performance, streamline their operations, and establish sound and robust financial infrastructure.
Lootah says implementing key performance indicators (KPIs), for instance, is one way to gauge their progress and success. "This system helps organisations evaluate the quality and timeliness of their offerings as well as the response of their customers to these services in terms of their experience. Enhanced and improved FM services lead to a better business and living environment anywhere in the world," he says.
FM companies are also paying attention to increased customer engagement and interaction, in light of evolving customer demands and expectations.
"Offering services that meet expectations and tapping the expertise of influencers and thought leaders on social medial platforms are effective steps to better engage and interact with clients," he adds.
In terms of promoting professionalism, Lootah says Mefma regularly hosts relevant training sessions, workshops, networking events, and conferences across the region – gathering all stakeholders for an opportunity to share experiences and ideas and transfer knowledge.
"Additionally, we make sure to roll out programmes and initiatives designed to improve FM performance. We are proud to say that a number of FM companies share our goal, as such, they are providing essential training to educate their staff and upgrade their skills based on their own initiative."
Mefma recorded major milestones and key achievements during H1 2018 in its continuing efforts to provide a dedicated platform for FM professionals and stakeholders. These accomplishments were highlighted by successful events that it hosted, including well-attended and highly interactive workshops and conferences.
Lootah says: "The strong support given by our members, partners and stakeholders have greatly helped in achieving our objectives and enhancing the global competitiveness of the region's FM segment. Mefma is highly committed in leveraging its industry knowledge and expertise to create a culture of FM in the region, especially in the adoption of best practices and internationally accepted standards."
He says the association will work closely with like-minded organisations and associations for the continued growth of the regional and international FM industry. "Mefma must take advantage of the steady growth that the real estate sector is witnessing to further develop the industry, which is an integral part of the region's economic development," he adds.
During H1 2018, Mefma staged a comprehensive forum on energy efficiency concurrently with the opening day of the World Future Energy Summit (WFES) at the Abu Dhabi National Exhibitions Centre. The association also organised an interactive FM workshop in Oman in February to help enhance the global contributions of the Middle East's FM community. In addition, Mefma hosted a forum and workshop covering the role of FM in the freehold sector in Jeddah, Saudi Arabia.
Mefma Confex Dubai 2018, held in April, was a major success as well. Participating industry decision-makers, pioneers, and experts discussed a wide spectrum of topics during the conference, from steps to securing certificates from the International Organization for Standardization (ISO) to the latest performance benchmarking within the GCC's FM industry. The event reviewed the potential of the FM sector in the region and how companies could play an important role in maintaining this expected increase in revenues.
The association also released three reports titled 'Performance Benchmarking in Facilities Management', which indicated strong activity within the core services of utility FM companies; 'ISO 41000 Facility Management – a global management system standard'; and 'How smart buildings can deliver long-term asset sustainability'.
Also during the period, Mefma founding member Enova bagged the Silver Award at the Global FM Awards 2018. The company was recognised for its excellent performance and key contributions to the FM industry – particularly its exceptional business processes and procedures.
"Mefma's excellent performance reflects its continuing commitment to integrate the best FM concept and practices in all aspects of this sector in the region – especially as the GCC's FM segment is expected to grow at 10 per cent annually in the next two years," says Lootah.
"The FM sector supervises the cleaning, security and other maintenance services necessary to improve performance, in which the association seeks to find innovative solutions to the challenges facing the sector, enhance efficiency and reduce costs and establish sustainability as well as promote the well-being and happiness of both employees and customers in the global industry," concludes Lootah.
More Stories