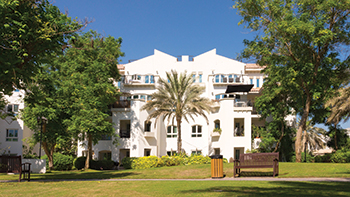 Kaizen keen to take its expertise regionwide
August 2018
Kaizen Asset Management Services (AMS) is looking at expanding organically and geographically, with plans for the launch of a property technology division by the year-end and expansion in the Gulf region.
The integrated property services company is employing a comprehensive strategy that aligns assets with service and community expectations at its managed projects in the UAE, eventually helping raise asset value, sustain occupancy rates and decrease energy consumption.
"At Kaizen, we understand that one size doesn't fit all and that property services require a tailored approach," Fadi Nwilati, the company's CEO, tells Abdulaziz Khattak of Gulf Construction, adding its property managers contribute to the strategic property plan through the implementation of best property management practices.
"At Kaizen, we ensure that we employ the most sophisticated and educated property managers that have skillsets that go beyond day-to-day blocking and tackling. Our property managers have extensive knowledge on implementing long-term asset value strategies and have a broad understanding of both the tactical and strategic approach when it comes to effective asset management," says Nwilati.
Kaizen's comprehensive and professional property services include property management, owners' association management, real estate development consulting, investment consulting, facilities management consulting, and handover services.
Projects
In 2012, Kaizen was awarded the contract to manage the prestigious Office Park complex in Dubai Media City. In six years, its services have contributed to significant growth in the performance of its portfolio. Office Park is a mixed-used development spread over 500,000 sq ft.
According to Nwilati, Kaizen did an extensive asset analysis in 2012, and an income and growth strategy was implemented later that year.
"The effective implementation of that strategy ensured that a sufficient occupancy rate was reached and supplemental income was also generated from the parking, terrace space, and storage rooms. Energy consumption charges have also decreased by 15 per cent in the past six years. Service charge rates also reduced due to higher occupancy levels," he says.
Kaizen implemented the following strategic property management plan to assist with asset value growth:
• Reducing expenses: This was done by analysing the scope of service providers and ensuring services were provided at optimum levels. For example, every cleaner's output was analysed to understand exactly how much time was taken for every task and then how many staff members were required.
• Increasing revenue: By understanding the property, Kaizen was able to implement additional revenue by leasing kiosks, advertising, car cleaning services, etc.
• Leasing: It carried out extensive marketing campaigns to target specific tenants for each property.
• Attracting long-term tenants: With a full understanding of each building and the dynamics of the market within the location, Kaizen was able to implement such initiatives as reconfiguring the floor plans to allow for larger offices. This made it more attractive for those seeking space for their headquarters.
• Reducing energy consumption: Using experience from previous managed properties, Kaizen has been able to implement many energy-saving initiatives.
• Capital works programmes: By understanding the lifecycle of an asset, efforts were made to implement a sinking fund strategy to plan for any long-term capital works programmes without a sudden unplanned cost.
• Increasing asset value: By carrying out all of the above, large increases in asset values were achieved.
Kaizen was awarded another project, also in 2012 – the renowned Cordoba Residence in Dubai Knowledge Village. The residential community is spread over 1 million sq ft.
Nwilati says a comprehensive analysis of the asset was done in 2012 followed by the implementation of a sufficient income and leasing strategy. This resulted in Cordoba's annual rental revenue increasing by 20 per cent in six years, and its annual net profit increasing by 14 per cent in four years (2014-2018), he adds.
"The asset value of Cordoba Residence increased by 147 per cent since Kaizen took over the project in 2012. The asset value is based on independent valuations done year on year," says Nwilati.
Business outlook
Kaizen Asset Management has been operating in Dubai since 2006, providing comprehensive technology-driven property management services throughout the asset lifecycle.
In terms of business, Nwilati says the company has grown by 100 per cent in portfolio size over the past two years. Kaizen has developed and executed various development strategies over the past two years.
"As an organisation, we have streamlined processes and added new business units that complemented market requirements. With reference to market conditions, barriers have never been higher with external factors like saturated markets and pricing pressures affecting sustainable growth. Thus investors, developers, family-offices and government entities are looking to maximise value from existing property portfolios and land," Nwilati comments.
He says adaptability is the most important 'rule' in business.
Kaizen has implemented growth strategies to ensure it stays ahead of the game. It has incorporated a new business unit that caters to the individual property owner, which has created a business-to-consumer channel for the organisation. Kaizen also launched a strong real estate investment consulting division drawing from its market knowledge and financial expertise.
Kaizen will be launching a property technology division by 2018-end, says Nwilati.
"Technology is helping property managers do their jobs more effectively and efficiently. Kaizen has identified technology investment opportunities in the sector and identified areas with the largest return on investment.
"PropTech will be integrated throughout the real estate value chain, from construction to the interaction with the end-user. The primary focus of our technology division will be to improve the user experience across all our platforms and adopt forward-thinking technologies that will improve the overall service delivery," he adds.
Although Kaizen currently has operations only in the UAE, it is planning geographic expansion within the next five years into markets like Saudi Arabia, Kuwait, and Bahrain. "Plans are currently in the evaluation stage and we are analysing if an organic expansion will be required or if a strategic alliance will make more sense," says Nwilati.
He says despite the struggles in the GCC real estate sector, the actual markets maintain an overall positive outlook with various reforms and plans being executed by Saudi Arabia, as an example.
"Kaizen will mitigate risk by running a pilot project in one of these target markets. But the UAE remains number one in the GCC for construction, so for the interim period we will capitalise on this market and expand our operations into other emirates," he concludes.
Kaizen is a corporate member of both Mefma (Middle East Facilities Management Association) and the US Green Building Council. It is certified as fully compliant with ISO 9001 standards.
Kaizen's key clients today include Emirates REIT, Meraas Estates, Emaar Properties, Nakheel Properties, Fattan, Mazaya, Tanmiyat and Constellation Holdings.
The company has earned several awards including Superbrands 2017, Gulf Real Estate Awards 2017 and 2018 for 'Best Employer in Real Estate', 'Best Real Estate Consultancy' in 2018 and Best Management Company for Exclusive Projects by Property Times.
More Stories