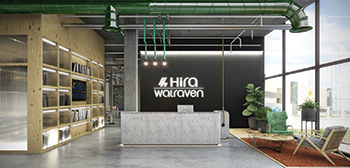 Exclusive fixing systems facility launched
August 2018
Hira Walraven AC Industry has recently opened what is described as the first exclusive fixing systems facility in the Middle East.
The facility is part of its new 265,000-sq-ft headquarters at the National Industries Park (NIP) in Dubai, UAE. It houses a state-of-the-art factory to manufacture pipe supports, strut channels and rubber support inserts, in addition to modern offices and a distribution centre.
The project is a joint venture between the fixing systems division of Hira Industries, and Walraven group of the Netherlands. The partnership has completed three successful years, and the new building reinforces the commitment of the company to the region, Ravi Wadhwani, general manager of Hira Walraven, tells Gulf Construction.
The factory's location at NIP, situated mid-way between Dubai and Abu Dhabi and close to both the Al Maktoum Airport and the Expo 2020 site, is the ideal location, he says.
"The joint venture with Walraven has provided us with the technical support and product range with which we can provide complete solutions for every aspect of projects, no matter how large or complex. We are the most innovative company in our industry, setting the standards, which other companies wish to follow," says Wadhwani.
He adds: "Our customers rely on us to pioneer new products and techniques, which in turn provide added value to their services. With the input, suggestions and new ideas from our team, we will continue to widen the gap between our competition and us."
The new facility is designed to meet the green building norms, with the factories being ISO 14001:2015 and OHSAS 18001:2007 compliant, Wadhwani says.
"Another unique feature of the facility is the competence centre and the training room. Customers and employees can see replicated installations of site using the complete product range," he adds.
In addition to the widely used product range of pipe support systems, the joint venture has also added the complete range of support channels, ranging from the light to heavy-duty Maxx range, with complete accessories. Meanwhile, mechanical and chemical anchors form a major addition to the range.
Keeping in mind future expansion plans, the facility has 100,000 sq ft of empty space which can be built on.
Hira Walraven has technical offices across the Middle East region, the Indian Subcontinent, Africa and South-East Asia. It is supported by professional distributors, which have their own sales teams and carry substantial inventory to service their individual markets.
More Stories