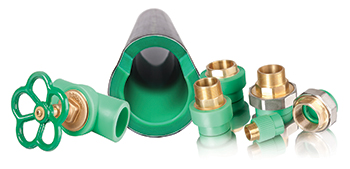 New RAKtherm systems are high performers
August 2018
RAKtherm, a pioneer in German PPR and PEX piping systems, has developed its newest piping systems range called DWV sanitary system as well as RAKtherm anti-UV fittings.
RAKtherm has been at the forefront of the advancement of the global piping industry from the traditional way of plumbing to today's modern techniques by finding and developing new solutions to overcome any new plumbing challenges, Mohammed Habib, sales and marketing manager at RAKtherm tells Gulf Construction.
"RAKtherm has utilised an optimal combination of process and advanced German technology to achieve its impressive growth. Over the decades, our adherence to producing top-notch piping solutions for challenging projects has elevated the conventional way of piping systems in the industry," he says.
The DWV sanitary system is an innovative sanitary solution designed to meet RAKtherm's global demand.
The company has also set a new industry standard by being the world's first and only manufacturer of anti-UV fittings that has been certified by a German certifying body from SKZ, Habib says, adding that the system is engineered for a higher level of performance under outdoor and direct sunlight applications.
In addition, the new innovative fittings and accessories provide efficiency and functionality in creating multiple networks easily.
Habib says RAKtherm is committed to making a real difference in providing high-technological piping innovations that are a breakthrough in the industry.
"Our thorough market analysis and technical know-how have managed to raise the efficiency level even further," he says.
"The demand for high-tech, high-performance piping solutions to support large-scale MEP (mechanical, electrical and plumbing) projects is immense, and we are committed to sustain and support the global piping industry," he concludes.
More Stories