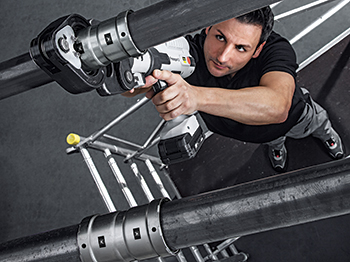 Megapress joins steel pipes quickly, securely
August 2018
Viega, a global market leader for metal piping systems, has introduced its innovative Megapress system to the Middle Eastern market.
Claimed to be the first system that allows thick-walled steel pipe to be press connected, the carbon steel Megapress system offers a fast, clean and efficient alternative to traditional methods such as welding.
According to Rosario Conoscenti, area manager international at Viega, the innovative Megapress connection offers an ideal solution for pressing thick-walled steel pipe safely, in sizes between ½ inch and 4 inches.
Compatible with heating and cooling systems, the system provides a highly effective pressing method. Connections can be made in less than seven seconds – helping to achieve between 60 and 80 per cent reduction in installation time, he says.
"The Viega Megapress system has proven extremely popular in the US and German markets – and we are now hugely excited to bring this ground-breaking technology to the Middle East," says Conoscenti. "With the introduction of the Megapress system, we are able to provide installers with a tried-and-trusted method of connecting thick-walled steel pipework, eliminating the need for traditional methods, which carry increased risk and prolonged installation time. The Megapress system is the modern alternative – fast, safe and reliable."
The cold press technology achieves a cleaner and safer method of connection as it avoids the need for oils, heavy threading equipment and open flames – which means the technology is completely fire safe. The simple-to-use pressing tool means that even difficult installations such as overhead pipework can be completed safely and effectively, he adds.
"The Megapress connectors feature a special sealing element that ensures a leak-proof connection – even with coarse and uneven surfaces. This seal makes it possible to press seamless, welded, galvanised, industrially varnished epoxy resin-coated and black steel pipes with one and the same connector and crucially – does not compromise the integrity of the pipe.
"For further reliability, the Megapress system ensures accurate testing through Viega's ground-breaking SC-Contur technology, proven to deliver a 100-per-cent positive leak if the fitting is inadvertently unpressed – clearly discernible during leakage testing or when the system is filled for the first time. Ensuring a reliable method of detecting these issues early in the process is vital to help avoid costly remedial work after the project is completed," Conoscenti points out.
Furthermore, regardless of the size of the pipe being connected, the same pressing tool can be used. The Viega Pressgun is supplied with three press jaws for sizes up to 1 inch, and three press rings for widths up to 2 inches. For the larger sizes up to 4 inches, a Pressgun press booster adapter and hinged press jaws are available.
Viega Group is a family-owned business founded in Attendorn, Germany, in 1899. It is among the leading manufacturers of installation technology for sanitary and heating systems.
Its range consists of approximately 17,000 articles, which are used nearly everywhere: building services installations, utilities, industrial plant construction and shipbuilding.
More Stories