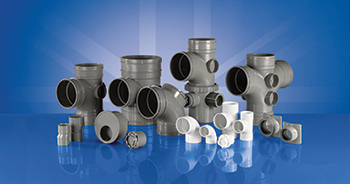 Terrain marks 60th Mideast anniversary
August 2018
Polypipe Terrain is marking more than 60 years in the Middle East, while its own history stretches back 116 years. From an importer and producer of pitch fibre pipes to being the first in the UK to manufacture PVC (polyvinyl chloride) rainwater and soil and waste systems, Terrain has a long and illustrious heritage.
The company has engineered an extensive range of PVC pipes and pipe fittings that represent the industry benchmark for quality, flexibility and product innovation to meet the needs of each project. It has developed a range of drainage systems to provide the most suitable solution for every project and budget.
Acquired by Polypipe in 2007, Terrain is an expert in its field and is known for its engineered, robust drainage solutions, backed by excellent technical advice, customer service and an efficient distribution network.
One of Terrain's main distributors in the region is Bin Moosa and Daly. The water technology company has been distributing Terrain products for 50 years in the Gulf, selling its first pitch fibre pipes in 1968, according to a spokesman for Polypipe.
"With a special focus on tall buildings in the Middle East, Terrain's above- and below-ground drainage products have been specified on numerous high-profile and high-rise projects in the region," Phil McCowen, the general manager for Polypipe Middle East, tells ABDULAZIZ KHATTAK of Gulf Construction.
He says Terrain's reputation for quality and proven performance in the region is why its above- and below-ground drainage products have been specified for many prestigious projects including Zaya Nurai Island, Fairmont Hotel in Abu Dhabi, Burj Al Arab, The Address Residences Fountain Views, and Bvlgari Hotel and Residence in Dubai.
According to McCowen, the extreme variation in ambient temperature experienced in the Middle East requires careful consideration. "Expansion and contraction occurs in all construction materials, but can easily be controlled with the Terrain overground drainage system, through our unique approach and design of drainage fittings."
According to The European Plastic Pipes and Fittings Association and its 'Discover: Plastics' campaign, plastic is an ideal material for piping systems due to its performance, strength, flexibility and longevity.
Current projects Terrain has supplied include the Expo2020 Thematic District, where it has installed Permavoid, Terrain's above- and below-ground drainage systems, and the Effast pressure system.
Permavoid saves on construction costs, maintenance, labour, water and energy consumption and replanting, compared to traditional installation methods, says the spokesman.
Terrain's Polystorm has been specified for both the Dubai Arena City Walk in Dubai and the Bee'ah Headquarters in Sharjah.
The Polystorm range of modular cell systems are designed with a 95 per cent void ratio to retain large volumes of water run-off. The cells can be designed and built to a specific size to a total void volume requirement dependent upon the water run-off volumes required on a particular project, such as car parks, roads or buildings.
The Polystorm range of water storage cells are structurally strong, individual modular cells which can be built up to form a structure of any shape or size. The structure is wrapped in a non-permeable, geomembrane, which can receive rainwater collected from the roof gutter system or surface drains and either stores water for future use (detention), releases the water within set discharge limits (attenuation) or, where soil conditions allow, be wrapped in a permeable geotextile and slowly release the water back into the surrounding soil (soakaway).
For its commitment to operating sustainably, Polypipe Terrain was awarded BES 6001 accreditation in 2015 for the successful management and reduction of the environmental impact of its entire supply chain. In 2016, Polypipe received a Queen's Award for Enterprise International Trade, recognising its outstanding achievement and contribution to the global export trade.
In 2017, Polypipe Middle East made the strategic decision to move to a more flexible in-country manufacturing approach in order to provide its customers with a dedicated supply of product to meet the demanding project timeline requirements across the region.
"As a result we moved machinery from Dubai to some of our existing manufacturing plants and we now have a network of approved third-party manufactures in the region providing supply of certain products within our range to key projects within the GCC," concludes McCowen.
More Stories